As London slowly returns back to life and the City welcomes back visitors, Sculpture in the City, the City of London's annual programme of public sculptures, brings a new spirit to the area! Earlier this week we attended a preview of the sculpture trail, and admired the works of 18 contemporary artists, spanning from St Botolph-without-Bishopsgate to Fenchurch Street Station Plaza, Leadenhall Market to Mitre Square.
Now in its 10th year, Sculpture in the City is an unmissable event for City-goers, a real explosion of culture and colour, transforming the Square Mile into a giant outdoor sculpture park. Whether you're running to get your lunch, or rushing past on your commute, this group of sculptures is definitely worth seeing.
The 2021 edition provides a free, outdoor exhibition for audiences to experience contemporary art in a safe environment. Scroll down for a little preview and make the most of these summer (hopefully sunny) days by getting out and about, and visiting this public art trail!
Burial by Alice Channer
We kicked off our tour in the churchyard of St. Botolph-without-Bishopsgate with Burial by British artist Alice Channer. Featuring two stretched Corten steel rocks collected from demolition sites across London, the work mimics a mourning procession. To stretch the rocks, the artist used a lump of concrete, and made a 3D scan of it. She then stretched the scan far beyond its original scale. As you come closer, you'll notice a series of pleated and folded horizontal lines, which look like they might come apart, in the same way skin does when it wrinkles.
Burial is inspired by ancient sarcophagi, which the artist compares to hard shells, made to exist around a soft body, while that body changes state. When a body dies, it transforms into something else. Burial expresses the artist's fascination for mutating bodies, which, according to her, is what sculpture is all about. Artmaking might be a way of preparing us to the experience of death, and she believes it's something closely related to the practice of working with sculpture.
Silent Agitator by Ruth Ewan
As you turn the corner of Bishopsgate and Wormwood Street, you'll see Ruth Ewan's Silent Agitator – a monumental-scale clock, based on an illustration produced for the Industrial Workers of the World (WWI) labour union by the North American writer and labour activist Ralph Chaplin that reads 'What time is it? Time to organize!'. The illustration was one of many images that appeared on 'stickerettes', known as 'silent agitators', millions of which were printed in red and black on gummed paper and distributed by union members travelling from place to place.
This work is a testament to the artist's research, which is informed by communities, organisations and individuals from the history of activism and alternative educational models. The artist presents her research in a variety of interactive objects, which reveal the accessible reality of these discrete but profound social movements.
Keeping Time by Isabella Martin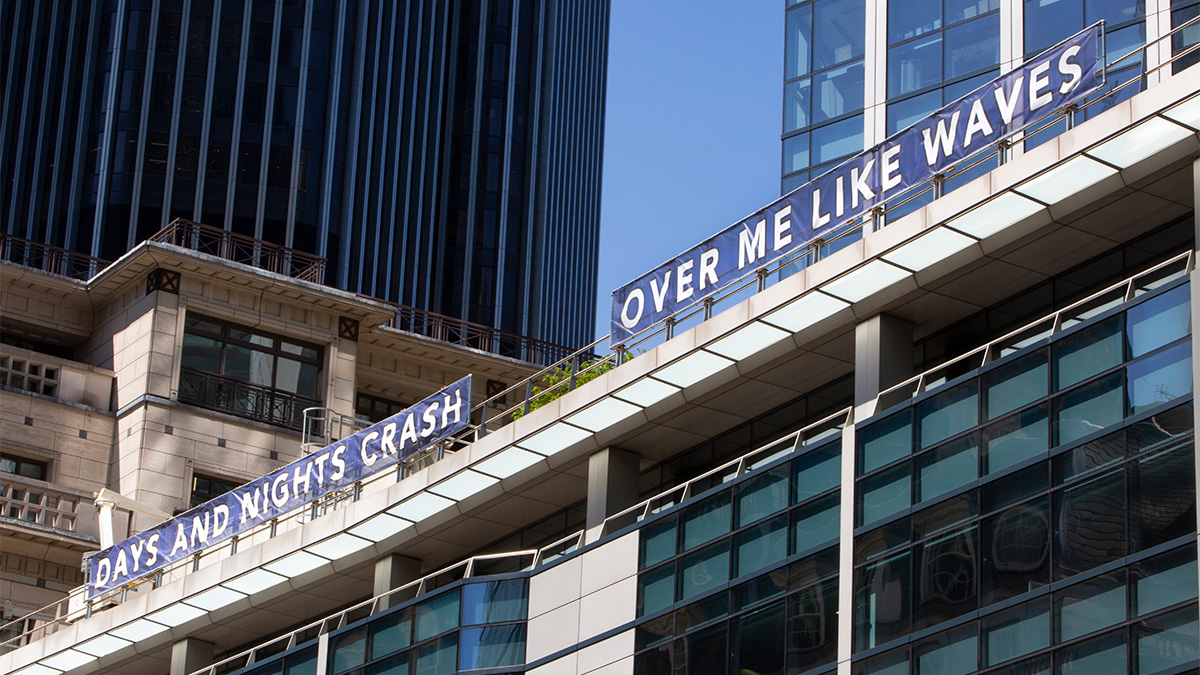 Look over 99 Bishopsgate and you'll see Keeping Time by Isabella Martin, which features two banners displaying a phrase lifted from Italo Calvino's Shells and Time: 'days and nights crash over me like waves'. The phrase is spoken by a shell lying on the seafloor millennia ago, as it witnesses the world taking shape around it. The work voices the fragility of time and the inevitability of its passing, regardless of whether or not we keep track.
Rough Neck Business by Mike Ballard
At 100 Bishopsgate, you'll come across Rough Neck Business by Mike Ballard – a striking sculpture featuring two links of a chain, made up of hoardings sourced from different locations across London, including the Olympic Park, Dalston and Hackney Wick. These 'witness marks' on the hoardings give clear indication to what they were taken from (some have graffiti on them, others illustrations). All of these sites have seen significant changes over the past few years, and have been surrounded by hoardings for quite some time.
Mike Ballard's practice often explores ideas of ownership and protection of property, and this work perfectly responds to this concept.
Harlequin Four by Mark Handforth
On Undershaft, next to St Helen's Church, you'll see Harlequin Four by Mark Handforth, a fourteen-foot, freestanding sculpture that delineates the number four. Its colours and light fixtures act like a beacon in the surrounding landscape. The number four is a recurring figure in Handforth's work, as he describes it as being 'the beginning of every drawing' and an incomplete star. This work is full of symbolism, as the number four is often considered the number that connects mind, spirit and body with the physical world of structure and organisation.
Cosmos by Eva Rothschild
Across the street, Cosmos by Eva Rothschild is a monumental physical structure that connects with the architecture of its surroundings. Shaped by several influences from minimal art of the 1960s and 70s to classical architecture and pop culture, Eva Rothschild is renowned for her striking sculptural works. Often representing enigmatic geometric compositions, her works intersect with the architectural element and strong interest in the materiality of the sculpture.
Cosmos, just like Rothschild's other bodies of work, encourage a physical response from the audience, as they navigate their own corporeality in proximity to the work.
Murmurs of the Deep by Laura Arminda Kingsley
Hidden on the underside of the escalators of The Leadenhall Building (known to City workers as the Cheesegrater), you'll see Laura Arminda Kingsley's Murmurs of the Deep. Merging magical realism, Dominican folklore, Afrodiasporic histories and archaic biologies, her work aims to liberate the mind from static ideas of identity and the misleading supremacy of some life forms and cultures over others.
symbols by Guillaume Vandame
In Leadenhall Market you'll find symbols by Guillaume Vandame, on view for the first time! The work consists of 30 LGBTQ+ flags, merging the original Pride Flag designed by Gilbert Baker in San Francisco in 1978 with the more recent version created by Daniel Quasar in 2018. The artist has spoken to us about all the countries where being LGBTQ+ is illegal. The flags are hung up as if they're country flags, but of course are instead showing the diversity of the Queer experience.
Untitled by Tatiana Wolska
Not too far from symbols is Untitled by Tatiana Wolska. A light red sculpture, suspended from Leadenhall Market's ceiling, created using recycled plastic bottles. The transparency of the plastic creates visual games of light and shadow, which give the work a mysterious appearance. It almost looks like a floating being suspended from above watching over us!
Orphans by Bram Ellens
Located on Cullum Street, Orphans by Bram Ellens features a series of old paintings that the artist has collected from deceased individuals, lending them a new life.
The Orphan series is about loneliness and overproduction. Through funeral directors and thrift stores, the artist has managed to acquire works that had become 'orphaned' after their owners' death.
Latent Space by Jake Elwes
Latent Space is a 45-minute loop video by Jake Elwes, on view at 120 Fenchurch Street. In artificial intelligence a 'latent space' is a mathematical space that maps what a neural network has learnt from training images. The video is a snapshot of an AI algorithm, trained using 14.2 million photographs and continuously producing new images.
Bloom Paradise by Jun T. Lai
Displayed in Fenchurch Street Station Plaza, Bloom Paradise by Jun T. Lai brings a breadth of positivity and colourfulness to the surrounding area. The sculpture is made of 3 elements, 'The Flower of Hope', 'The Flower of the Sky' and 'The Flower of Life'. A much-needed explosion of colour after the grim year we had!
Reactivity by Regitze Engelsborg Karlsen
Young Danish artist Regitze Engelsborg Karslen's Reactivity responds to the artist's belief that we urgently need to restart our relationship with the landscape and its materials through new narratives. For this reason, Reactivity examines how we can create new contact with our surrounding landscapes, through materials and encounters with sculptures.
RedHead Sunset Stack by Almuth Tebbenhoff
In Mitre Square, you'll spot RedHead Sunset Stack by Almuth Tebbenhoff, an impressive sculpture that aims to capture the sense of awe that a sunset inspires. The artist's practice is informed by emotions that cannot be contained, and just like a face showing a feeling, she cuts and welds the frames of the containers to express vulnerability as well as strength. Each cube is bolted to the one above or below and the cubes respond to each other. The bright colours are based on the sky at the end of a day. Therefore, the work is almost like a snapshot of that moment before dark.
Stone (Butch) by Rosanne Robertson
On display for the first time ever, Stone (Butch) by Rosanne Robertson is the artist's first public sculpture and is located in Bury Court. The work is part of a series that explores the Queer body in the landscape and reclaims a natural space for Queer and Butch identity from a history of being deemed 'against nature'. The work is made of plaster casting crevices within natural rock formations taken from Godrevy Point in St Ives, Cornwall.
Metal Man – Deeper Together, Deep Travel Ink. NYC by Laure Prouvost
Inside the lobby of 70 St Mary Axe (which is visible from the outside as well!), you'll find Metal Man – Deeper Together, Deep Travel Ink. NYC by Laure Prouvost, an impressive installation, which fuses video and sculptural elements. Featuring two metal figures, whose heads directly address the viewer with sentences like 'come with us' and 'this is the best thing you have seen for a long time', the work directly engages with the audience through text, image and sound.
In Loving Memory by Oliver Bragg
Oliver Bragg's 'In Loving Memory' is a series of engraved brass bench plaques displayed across seven locations in the City, including Jubilee Gardens and Fen Court Gardens. Mimicking memorialising plaques, which often adorn benches to remember a specific person, these plaques are fabricated, and pay homage to a made up individual, place or idea, often relying on humour.
The Garden of Flooring Words by Elisa Artesero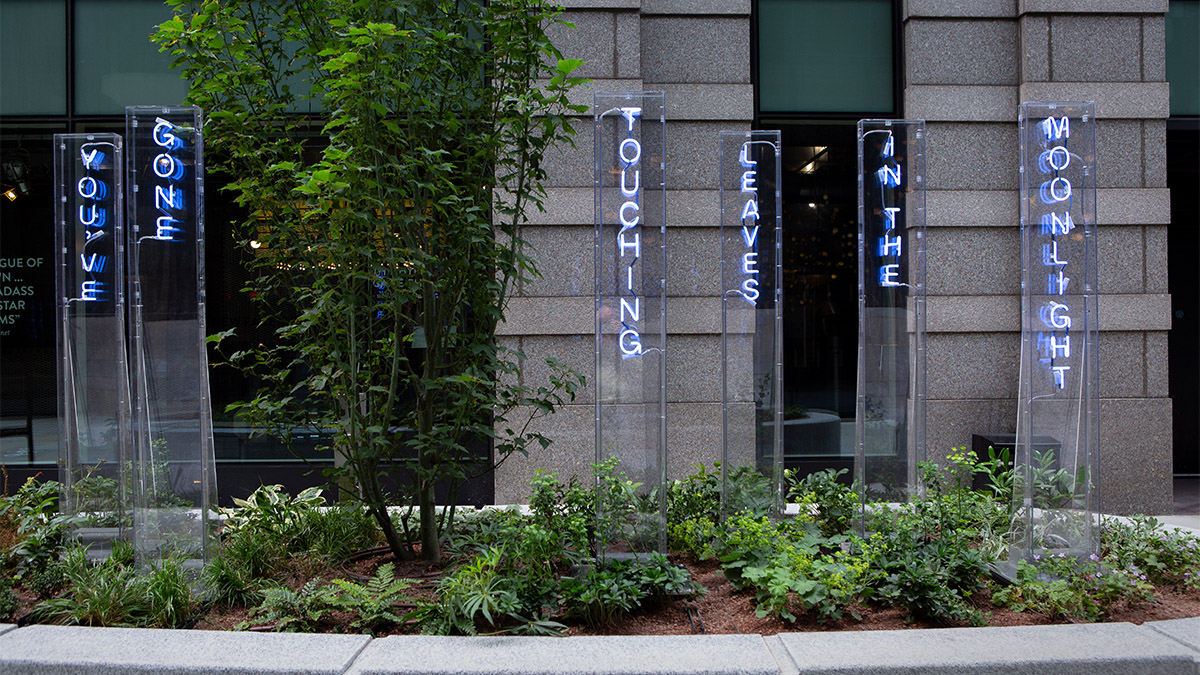 First commissioned for the 2017 Canary Wharf Winter Lights Festival, The Garden of Floating Words by Elisa Artesero is now on view at 70 St Mary Axe. The work is a neon poem that appears to float in the darkness from within the garden. During the daytime the words stand on tall rectangular acrylic panels, echoing the glass building of the Square Mile. At night, the words become the main feature. Using neon, a material often associated with the hustle and bustle of the City, the artist has created an ephemeral work that makes space for quiet contemplation.
This is just a little preview of Sculpture in the City. Why not make the most of these summer days and take a stroll around the City to view these works? Pick up a brochure with further details on the wider programme at 'Blend' café outside 22 Bishopsgate. Later this summer, an outdoor public exhibition (opening on 16 July in Aldgate Square and supported by the City of London Corporation Outdoor Arts Programme) will celebrate highlights from Sculpture in the City's past editions and will also include five shortlisted artist proposals for the first Aldgate Square Commission. Read more about this project on www.sculptureinthecity.org.uk.
For more updates on what's happening in the City, sign up for our newsletter here!