Welcome to our new column One City Eats! As you might guess from the title, we'll be reviewing some of our favourite meals in the City. It's a tough job but someone's gotta do it…
We're kicking off our column with Gaucho in Chancery Lane. 
A couple of weeks ago, we were invited to review Gaucho's lunch set menus. Tucked away on the corner of Chancery Lane and Fleet Street, this location is perfectly placed between the City and the buzzing West End.
Gaucho first opened in London in 1994, taking inspiration from Argentina with a vision of bringing the world's best steak to London. The very first Gaucho was on Swallow Street, in an area that was considered 'off the beaten track'. The site (now the entire building!) is now home to Gaucho's flagship restaurant in Piccadilly. The collection of restaurants in the UK has grown to 12 in London and 4 in Leeds, Manchester, Birmingham and Edinburgh. Continuing to serve some of the finest beef in the world, complemented by an extensive food and wine offering in a contemporary setting. 
From the moment we arrived, we knew we were in for a treat. The interior is sleek, intimate, but at the same time quite spacious. Perfect for a business lunch or a dinner date. Showcasing contemporary design, which reflects the modern Gaucho and a more modern Argentina.
We started our meal with some delicious CBD cocktails…yes, you read it right! CBD to calm you down and soothe your soul. And if you fancy a mocktail, The Punchy Peach, Ginger & Chai is quite possibly the non-alcoholic beverage of our dreams. Even more refreshing than regular lemonade, and very calming.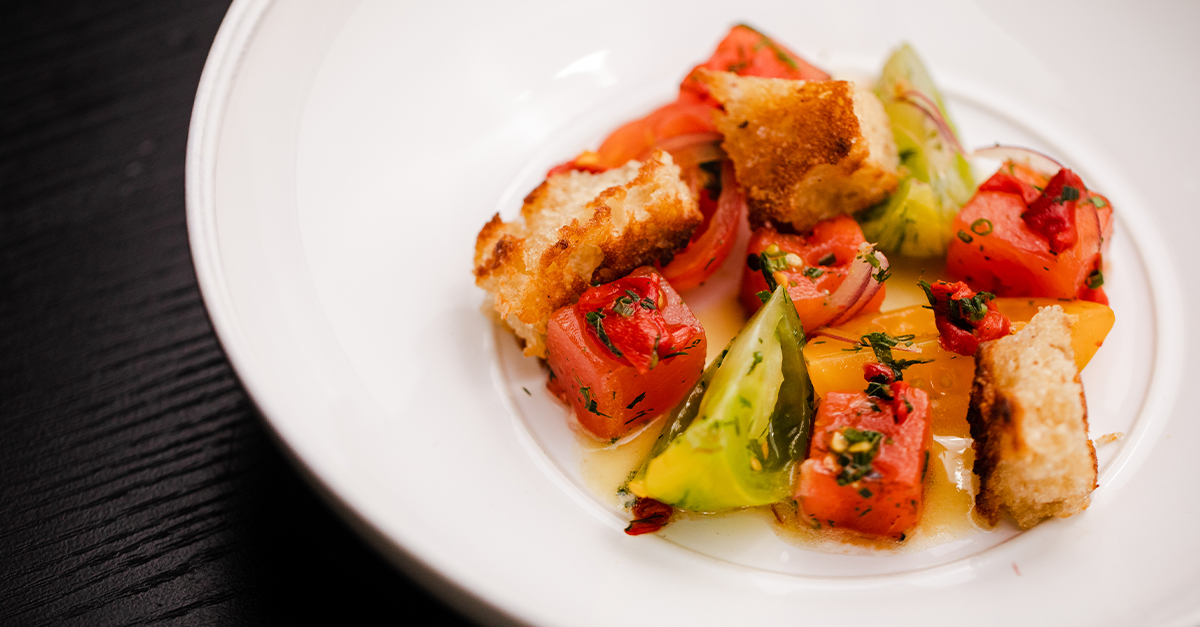 We then moved onto our starters, which included the Seabass Aguachile, watermelon Panzanella salad and a selection of empanadas. Covered in radish, cucumber, coriander, lime and toasted cancha, the seabass was simply delicious. Aguachile is a Mexican's much spicier version of ceviche. 'Cooked' in lime juice, the acids cause the fish to go through this cooking process. A lip-smacking way of cooking fish, light and healthy, this recipe feels very fresh with lime and coriander.
We then moved to our mains. And of course, when in Gaucho, you must have a steak! We opted for their signature dish, the Churrasco Cuadril (take a look at our interview with Chef Steven Allen to read the recipe). Marinated in garlic, parsley and olive oil, Churrasco Cuadril is a specialty worth having as it offers a true taste of Argentina. The meat was tender and properly cooked with the juices flowing over the plate at the press of a fork. 
However, there's a whole lot more to Argentinian cuisine than steaks. Have your steak with a side of chips, or seasonal greens, or if you're up for a special carbo-load… a side of Mac & Cheese never disappoints.
We ended our lunch with a selection of desserts, the limoncello and almond cake was superb and over-indulgent. But after all, isn't Gaucho an appropriate place for some much-needed indulgence?! We'd like to think so. And if this is what a meal in Argentina is like, then book us a plane ticket.
For more updates on what's happening in the City, sign up for our newsletter here!