Seats at the Table by Re-Fabricate and The Disordinary Architecture Project as part of LFA2023. © Luke O'Donovan 
This June the Square Mile we all know and love is welcoming the London Festival of Architecture (LFA) and we can't wait!
LFA is a month-long celebration of architecture & city-making that takes place every year across the Capital. This year, all events respond to the Festival's theme 'In Common'.
With a plethora of events and installations to choose from across all corners of London, we've handpicked the top six things to do in the City for the Festival. These events and activations will immerse you in the world of architecture, design, history, and hidden gems – so they're not to be missed!
Without further ado, our six top things to do in the City are:
Join the experts, Rector George R. Bush and local tour guide Ian McDowell, on this guided tour of the Grade I* listed St Mary-Le-Bow church. With origins dating back to 1080, there's centuries of history to unpack.
Tours will take place on various dates and will last an hour meaning you might even be able to fit it in your lunch break.
Free to attend. Tours take place everyday from 19 June-23 June.
Urban Playground © Luke O'Donovan
Urban Playground brings an element of the unexpected into the City. Inspired by wooden children's toys, this interactive installation invites you to engage with fellow City-goers and your surroundings in playful and unexpected ways.
This urban playground isn't just about having fun, it's also about shifting perceptions and challenging current public realm space design. This is not a traditional playground, keep an eye out for it at Fen Court!
Free to visit. In place from 1 June-31 August.
Explore the City's abundance of hidden gardens, unknown artworks, and public spaces with this Secret Spaces Trail. By following the trail you'll uncover some of the City's most fascinating stories, uncover its twisting streets and find spots unknown to visitors, workers, and residents alike.
All the stops on this trail are accessible to the public and free to enter, so pick up your map from The London Centre and begin your explorations!
Free to take part. The trail will run from 1 June – 31 August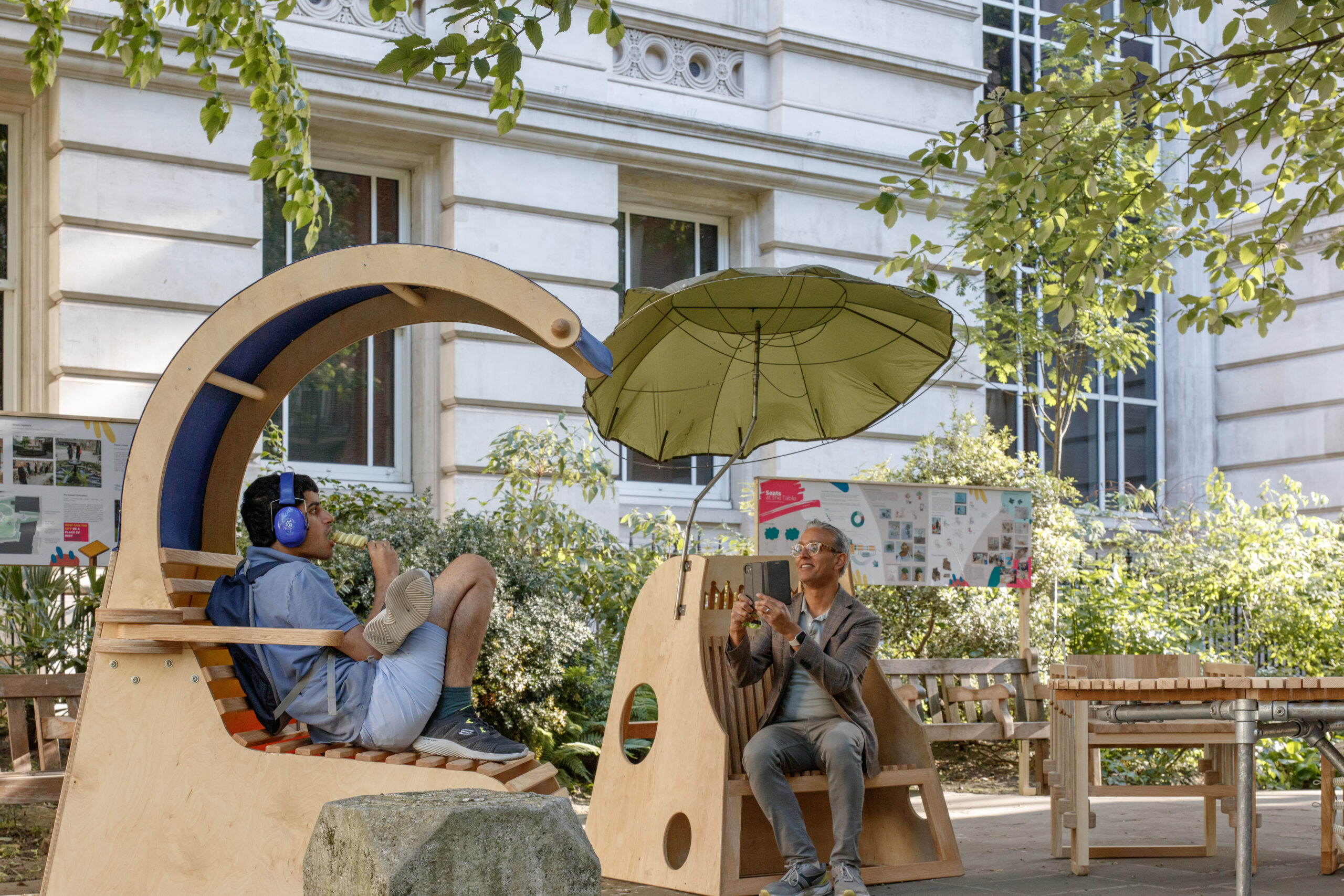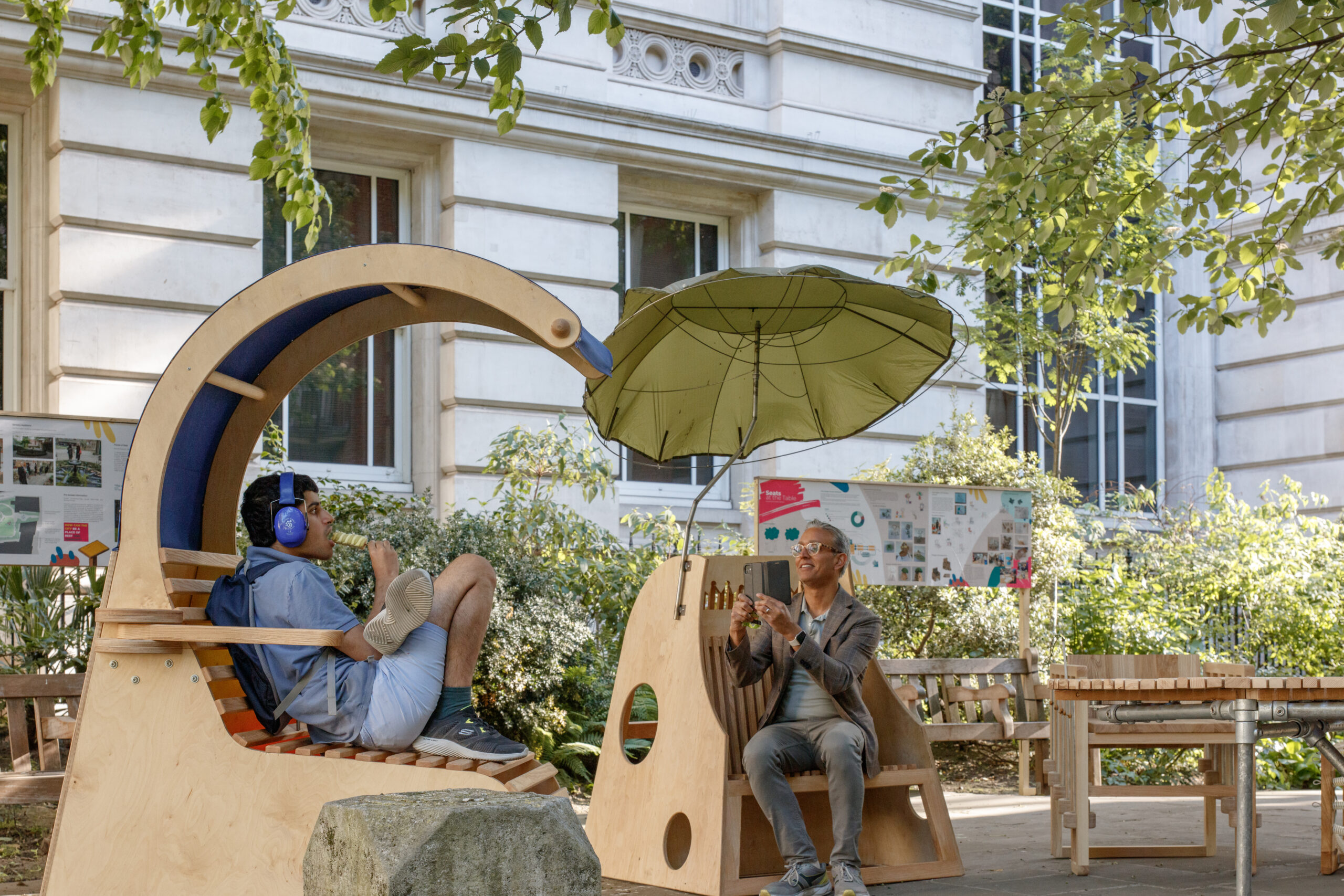 Wander down to 'Seats at the Table' at Postman's Park to see what it means to design in a way that is accessible. This unique installation is comprised of several pieces of 'street furniture' including a main table and chairs. All pieces are designed with features , such as audio description, colour paths and a silence booth to make them 'truly' accessible and create a welcoming space for everyone.
Along with the physical installation, organisers Re-Fabricate and the DisOrdinary Architecture Project, have planned a programme of events that you won't want to miss – including a launch event on 2 June!
All activities are free. The programme will run from 02-30 June.
Design concept of 'Seats at the Table' by Re-Fabricate and The DisOrdinary Architecture Project
This tour will take you through the vibrant streets of Whitechapel, a place brimming and rich with culture. It looks specifically at shared spaces from a Roman Gate, to a Brick Lane Mosque, Ashkenazi, Sephardi and Dutch synagogues.
Tickets cost £15, book them here. Tours will run from 28-30 June.
This playful and immersive public realm installation will show you what can be done when nature and creativity collide. Made of evergreen, scented and medicinal plants designers, Wayward, were inspired by 16th-Century herbalist John Gerard as well as the area's history of printing.
Find this hidden in the corner of St Andrews at Holborn Circus!
Free to visit. In place from 01 June-31 August.
The Herbalist's Plant Press © Luke O'Donovan
---
To see the full Festival Programme of over 400 events, including many others in the City of London check out the LFA Festival Map and browse the LFA Collections. We can't wait to see you in the City this year for #LFA2023.