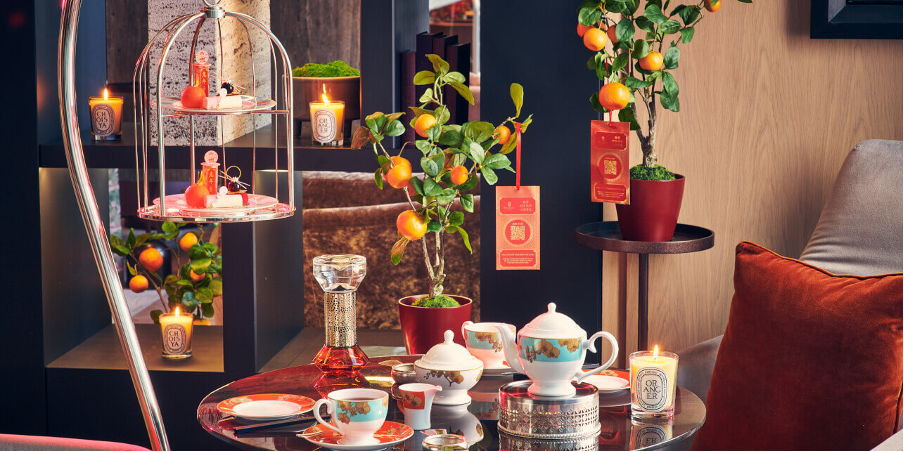 "Drawing from the flavours and symbols of her childhood, Executive Pastry Chef, Cherish Finden creates a delectable selection of sweet and savoury treats in celebration of the Lunar New Year at Pan Pacific London"
This Sunday marks the Lunar New Year, which is the first day of the first month for those following the lunar calendar around the world. To welcome the turn of the year our favourite five-star hotel, Pan Pacific London, has partnered with luxury fragrance brand Diptyque to organise a dedicated Afternoon Tea in The Orchid Lounge. This Afternoon Tea has been lovingly curated and created by award-winning, celebrity chef Cherish Finden.
Tastebud tantalising with good fortune bringing delights, we've tried the Lunar New Year Afternoon Tea and can assure you it's as fabulous as it sounds!
After being promptly seated at an elegantly decorated table, we were met with a glass of champagne – which flowed readily throughout the afternoon. After this, we selected a speciality tea from the vast menu of rare teas sourced from four continents across the world. 
Cherish's food was the perfect blend of scrumptious and aesthetically pleasing. The 'Kopi Tiam' menu innovatively fused traditional East Asian flavours with the quintessential motifs of British Afternoon Tea (think slow-poached lobster bao bun with wasabi mayo served on a three-tier cake stand). Other savoury delights included melt-in-the-mouth Singaporean Kaya Toast and a selection of Crispy Wontons, filled with aromatic duck, soba noodle and crispy tofu.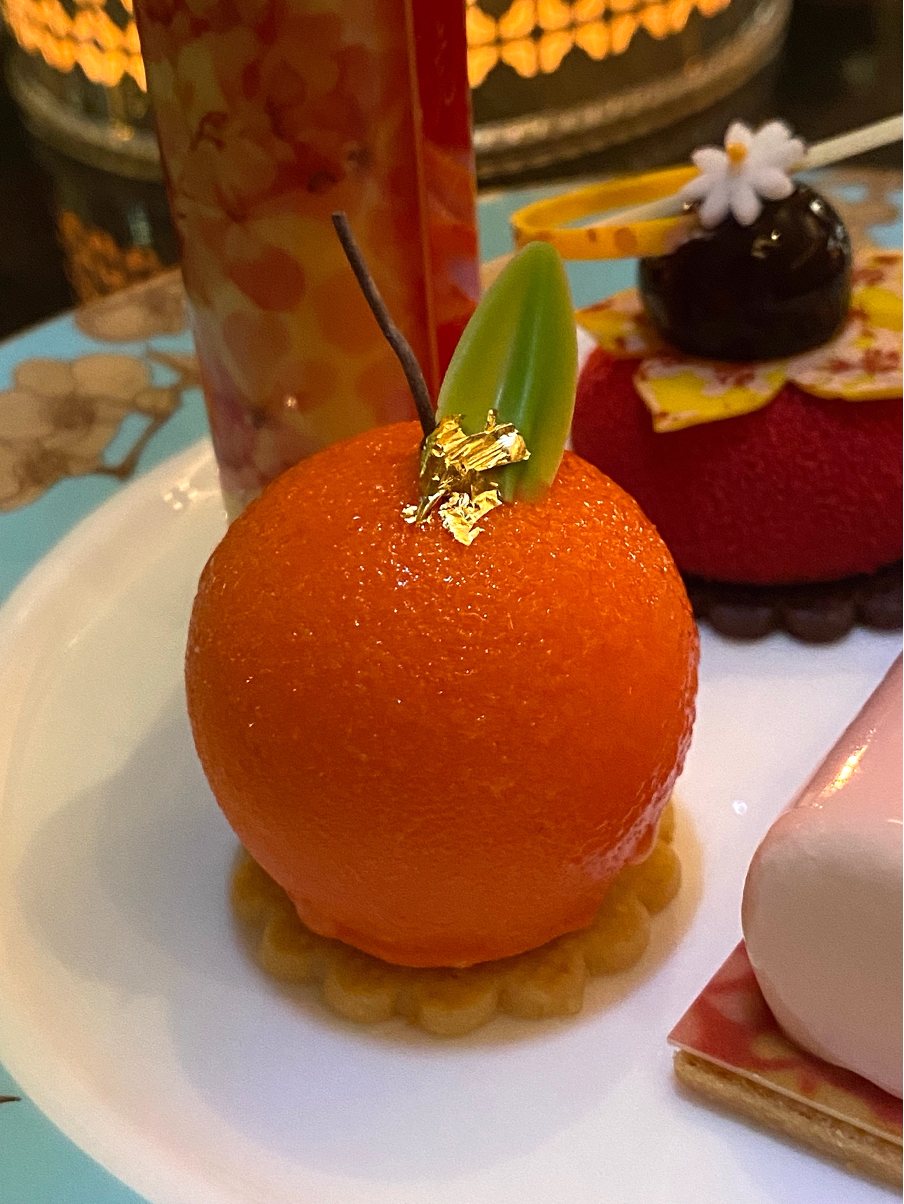 Cherish's menu is deeply personal, drawing from the flavours of her childhood in East Asia. This is particularly true of her selection of hand-made pastries, including a smooth mousse-filled mandarin. In Chinese culture the mandarin symbolises the blessing of prosperity and well-wishes; it's something that Cherish would gift her grandmother as a child and, in return, would be given a red packet with money.
Also on the sweet treat menu is a selection of flavours: lychee, passionfruit and chocolate desserts. Each dessert is meticulously detailed, exquisitely well-thought-out and showcases Cherish's extraordinary skill. The lychee mousse, for example, has a delicately crafted picture of a rabbit connoting 2023 – the year of the rabbit in the lunar zodiac. This dessert is light and refreshing in flavour, compared to the depth of the caramel sponge, coated in Cherish's signature chocolate, with a dusting of red power.
A glorious celebration of culture, not to be missed. The Lunar New Year Afternoon Tea is available in The Orchid Lounge at the Pan Pacific London until the 27th of March.
For updates on what's happening in the City plus exclusive offers, events and content for One City Friends, sign up for our newsletter here!