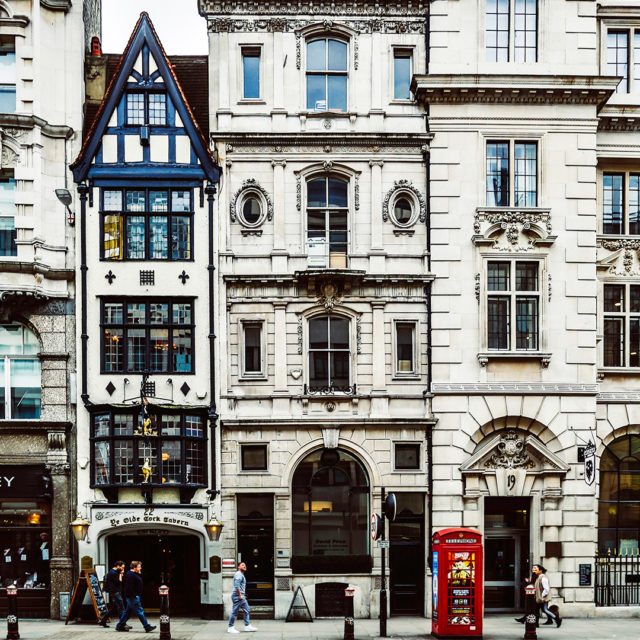 Fleet Street: it's one of the most recognisable and prominent streets in our City, connecting the the Strand to St Paul's. We're all familiar with the shops, cafes and offices dotted along the busy street – and particularly the pubs. But have you ever wondered what other legacy lurks along this old road? We've rounded up six of our favourite stories and facts about this historical hub.

–
The Home of British Press
A long history of printing and publishing has made the name 'Fleet Street' synonymous with British journalism; the road was the home of London's first daily newspaper, The Daily Courant, initially published in 1702. In the 20th Century it housed most of the more recognisable papers to modern readers – The Times, The Daily Express and The Sun to name a few – but sadly by 2016 all had relocated. Some newspapers' shady journalism meant Fleet Street wasn't always celebrated for its long publishing history, but it's sure to mean that the street's pub-goers were the first to eavesdrop on some juicy gossip over the years.
–
Protecting St Paul's
Walk from west to east on Fleet Street and you'll see the majesty of St Paul's emerge. The great dome of our City's finest monument, St Paul's Cathedral, is subject to protected views: legislations that prevent architects from building modern towers that might block a particular view of the cathedral, known as viewing corridors. While most of these views are from parks and hills around the whole of London, including Primrose Hill, Alexandra Palace and Greenwich Park, there are also some street-level restrictions – with an unofficial (but generally respected) viewing corridor on Fleet Street. If you stand at a certain point in the street, you must be able to look up at the dome and see blue sky* on either side – complicating some planners' ambitions to build on the eastern side of the City, but protecting a historical skyline. This is even part of the reason the Leadenhall Building (the Cheesegrater) and the Scalpel have their iconic slanted shapes. (*Well, grey sky. It is London, after all…)
–
The Demon Barber
For some literary and musical theatre fans, it's difficult to hear the words 'Fleet Street' without thinking of its very own demon barber Sweeney Todd, made particularly famous after Tim Burton's 2007 film starring Johnny Depp. First appearing in a Victorian penny dreadful, Sweeney Todd became an urban legend: a serial killer barber who polishes off his victims during a shave – often slitting their throats with his barber's razor – and baking their remains into meat pies for the public. Don't worry – it's unlikely he was based off a real man (according to most scholars), but if he was we can only assume he was inspired by all that cut-throat journalism taking place.
Fancy seeing more of Sweeney Todd? St Bride's Foundation are performing Sweeney Todd: The Demon Barber of Fleet Street on 19-22 June; click here to book.
–
Polly the Parrot
Historical pub Ye Olde Cheshire Cheese has had a few notable customers passing through it – Charles Dickens and Mark Twain included – but maybe its most beloved presence was its cheerfully rude parrot. Polly, the pub's resident African Grey, was famous for memorising an extensive vocabulary of abusive words and even drew crowds from all around the country to come and be insulted by him. After he died in the early 20th Century, his obituary was published in over 200 newspapers (and even covered by the BBC). If you're keen to see Polly, his taxidermied remains still reside in the taproom, his old home (though we hope he's a bit quieter these days).
–
A Wordy Resident
Speaking of vocabulary, it's suddenly become a lot clearer where Polly might have learnt all those swear words – Dr Samuel Johnson famously lived in Gough Square in the 18th Century. It was while he was here that his most famous achievement was published: A Dictionary of the English Language, the comprehensive book that formed the basis for most English dictionaries after it. Today his Gough Square house is a museum, commemorated with a Royal Society of Arts blue plaque, and it sports a variety of cultural and historical events – take a look here to see what's on. You can even find a statue of beloved cat Hodge in the courtyard outside.
–
Winning Monopoly
Pass Go and collect £200 – if only living in London were that easy. It might be pricey to rent on Fleet Street in real life but you can live there vicariously through Monopoly (on the board, Fleet Street is teamed up with the Strand and Trafalgar Square). Within the game, the Chance card: 'You have won a crossword competition – collect £100' was inspired by the public crossword competitions of Fleet Street's newspaper behemoths during the 1930s.
–
For updates on what's happening in the City plus exclusive offers and content for One City Friends, sign up for our newsletter here!