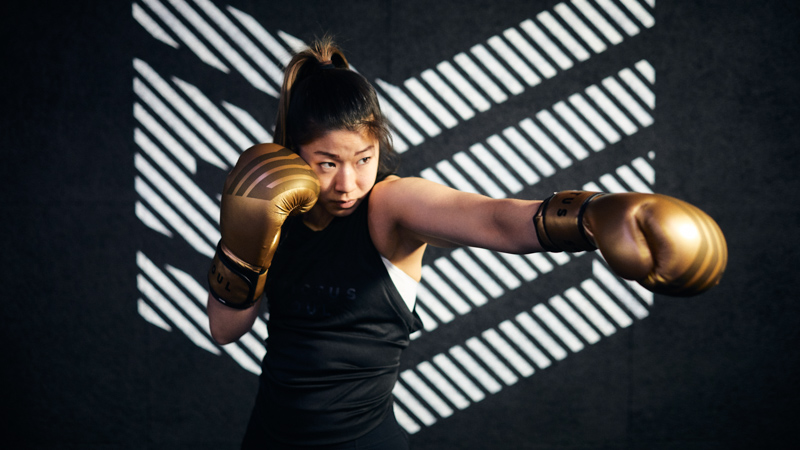 Victus Soul's five-star reviews are no coincidence. Take a class at the boutique gym in Aldgate and you'll find that as soon as you've left, you're buzzing for your next workout. Victus Soul splits its classes into two motivational styles – HIIT (high-intensity interval training) + Run, with treadmills, and HIIT + Box, with punch bags and gloves. The results are interesting, self-paced and highly motivating classes that work your entire body and never feel boring or intimidating.
Hang around outside the boxing studio and you'll often hear people chit chat about how they changed their entire schedule just to come to Amanda's classes – a favourite of the One City team, too. Amanda, an energetic and super-friendly trainer, packs a punch (pun intended) in her HIIT + Box sessions. We caught up with the Muay Thai fighter and personal trainer to learn about how she got started and why fitness is so much more than secondary school PE.
How did you get into fitness and Muay Thai?
Amanda: I never did any sports or exercise at school – I wasn't active at all as a kid, I had no motivation. When I was about 20, at uni, I walked past an MMA gym. It was doing a beginners' course, so I just signed up with a friend of mine at the time and got addicted straight away. I wasn't living the [healthy] life, though – I was going out all the time, eating crap, living a very typical student life – but also going to this gym on the side and punching a bag for a bit. I didn't have any idea about what I was doing but I knew I really enjoyed it – it was really my first taste of exercise that was fun.
When I graduated from uni I joined a Muay Thai club – that I'm still at now! – and became a journalist for eight years, specialising in health, fitness and nutrition. Alongside I studied to become a personal trainer, just to learn about it – it wasn't necessarily something I wanted to do as a career – but when I qualified, I took on a couple of clients and started doing it as a bit of a side hustle. I started to take on some Muay Thai clients and teach women's self defence, that kind of thing; it was on the back burner for a long time.
Eventually I just decided I wanted to do training full time, although I still do a bit of freelance journalism on the side. I love being in charge of my own schedule and the flexibility allows me to take my Muay Thai fighting more seriously as well, which was always a major goal for me. Now I'm a full time coach, and have started to compete as a fighter – I did my first professional fight last year.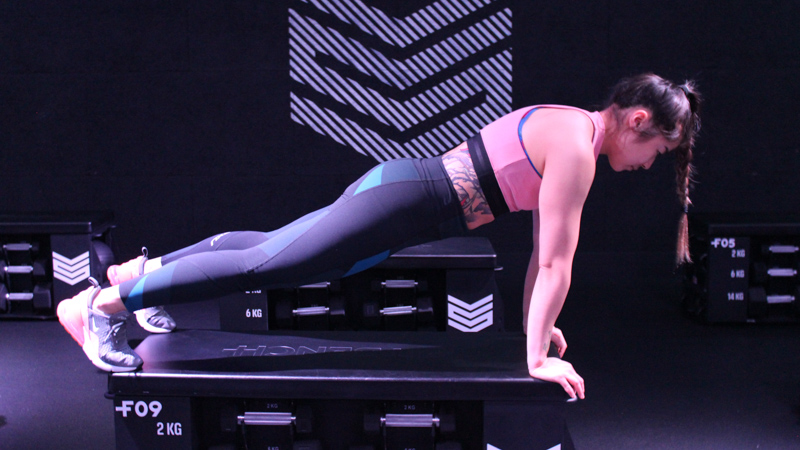 What was it about Muay Thai that hooked you straight away?
It always seemed that people only ever exercised to lose weight, which I was never really interested in. I don't think there's anything wrong with prioritising that, but personally it was never enough to motivate me. Muay Thai made me feel amazing, and that feeling of exercising properly for the first time just took over for me. I'd never experienced that elation after exercise before. Tied in with that, with any combat sport you learn so much, and you get such a sense of achievement afterwards, whether or not you have a good workout. The way my mind works means I can't do something mindlessly – I have to feel like I'm improving to stay interested. Muay Thai's everything in one for me.
Was it ever frightening or intimidating, particularly when doing your first competition?
It wasn't frightening really … don't get me wrong, I was nervous, but there's something so rewarding about it, if you work really hard towards something and it all comes down to this one event. There's no pressure, it's not my job and I'm not earning a living from it, so I just have to remind myself that every time I do it that it's a choice; no one's forcing me, I do it because I want to.
How was it going into that space as a woman? A lot of people can think of fighting and combat sport as being quite male-dominated.
There's a long way to go for women in sports in general, but particularly in combat sports. I mean, 2012 was the first year women's boxing was included in the Olympics – women haven't really been taken seriously for very long. When you go to a Muay Thai show now, it's mainly men, sometimes only men. The women aren't presumed to bring in money from spectators, which is an ongoing struggle across all sports. I'd be lying if I said at times it didn't feel that inclusive.
But every woman I watch perform in the ring knows that, and takes it as a challenge. It's always women who have the most exciting fights anyway! We have to work twice as hard when it comes to everything in life, so it's a great attitude to bring to a fight – perseverance, despite the obstacles. I've picked up so many skills in my training that cross over into real life, and that's one of them.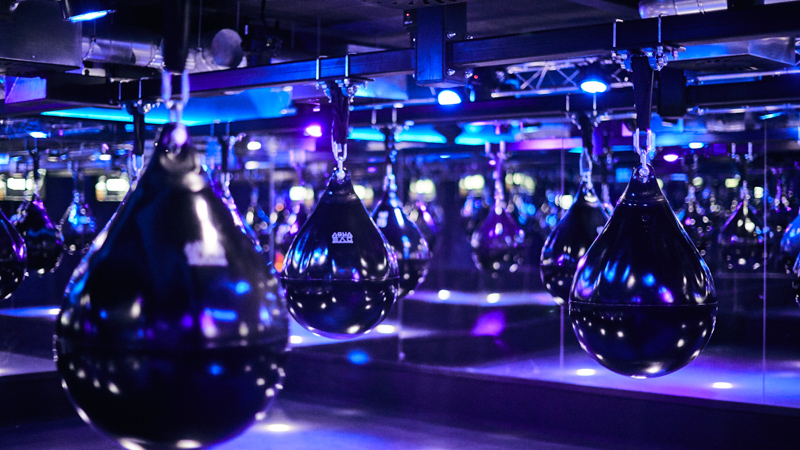 What advice would you give to someone who's interested in living a more active and healthy lifestyle?
I'm so lucky that the first exercise I tried ended up being something I really loved. I could have taken up something I hated and then been put off sports and exercise completely. So one thing I would say is that there is definitely something for everyone – the thing I've learnt from being a coach is that you see so many people you wouldn't expect to like boxing or to like HIIT training, because there just isn't one type of person who likes exercise – it's not just the people who were good at PE in school or who are naturally sporty. It's just a case of trying a few different things and being open-minded, until you find something that really connects with you. It's a lot more than rounders and athletics!
Often aesthetics is seen as the main driver [to exercise] – in some cases it's why people train, to look good. That's a really valid goal for a lot of people, but more and more people are realising now that you could look really healthy on the outside but feel very unhealthy on the inside. There's an instant, amazing feeling that working out gives you after a session is done – the endorphins, the flow around your body – but with consistency, you can get long term benefits for mental health as well. I've experienced that first hand, and training was something in my life that I could do with consistency. I didn't expect or even know I wanted the mental health benefits from training, but that's what I got, and now knowing that's what can happen, people should be actively trying to use exercise as a way to keep themselves mentally well as well as physically.
People have expectations about certain types of exercise, they might think 'yoga is going to make me zen', and maybe it will – but if you're like me, yoga just makes you frustrated! Something like boxing is quite meditative for me, because it gives me something to focus on that takes my mind off other worries. Additionally to that, you learn something that makes you feel good about yourself. You start to notice yourself improve, acquiring skills like perseverance and pushing through barriers, and that can translate over into real life as well. It really equips you for dealing with adversity in real life.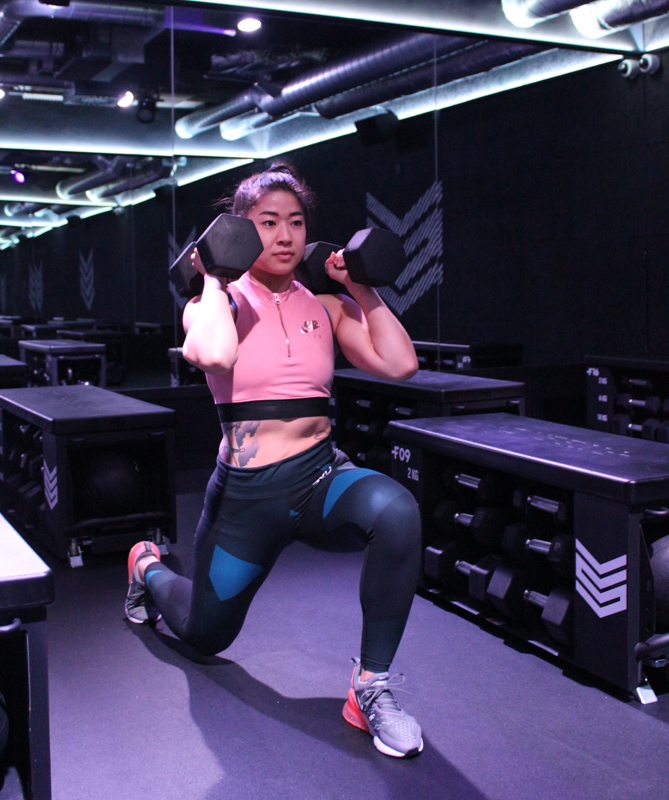 Tell us a day in your life.
I'm such a sucker for routine, but I don't always get it! Usually I'll wake up and have coffee – that's the one consistent thing about my day. I teach a few classes a day here at Victus Soul and at another studio called Awakn, and sometimes have PT clients in the day who I work with one to one, just to have that more personal connection. Most evenings I'll go and do my Muay Thai training, and then sometimes during the day I'll do some personal strength and conditioning training as well. Running and weights, depending on what I've got coming up. Teaching and training is my day everyday.
I'll always make some gaps where I can take some time to myself and prepare. I find exercise a really social thing – I'll ask my friends to come and train with me and then we can go for a coffee or grab some food. I'm also really into movies and cinema. Because I'm free in the middle of the day often, I love to go to the Prince Charles Cinema and watch old movies when it's quiet.
What do you like about Victus Soul?
I love how inclusive it is. Having done Thai boxing for a long time, it used to feel quite intimidating, so a studio like this that can introduce new people to boxing who might feel too intimidated to do in an old-school boxing gym is great. I really like that I'm able to teach boxing to people who might not otherwise have found it. I love seeing people improve and learn. In my classes I try to theme the class throughout the week, so this week for example we're focusing on how to use the double jab move, and people can work on that all week and by the end they've learnt and perfected something new and they can apply it themselves the next week while starting to learn something different. I like that I'm very subtly teaching people how to box properly, even if it's just seen as hitting a bag. But they're indirectly learning skills.
It's just a really nice studio to be in – everyone leaves smiling. I love that as a trainer you get an hour of people's time in the day, and for a lot of people that's their only free hour, so it's a privilege to have the opportunity to make that hour really rewarding for them. I have a lot of responsibility as a trainer – to be in this sort of career, you have to want to deliver a really good workout for other people, teaching them skills and interacting with them.
As a woman in a male-dominated industry, it can be more difficult for women to be taken seriously as a trainer. In general, it helps to look a certain way, and if you don't have that look you might have to work a bit harder – I'm very aware of that. It doesn't dishearten me, it just makes me feel challenged. You don't see many people who look like me in the boutique fitness industry and I find that motivating. I want there to be more diversity, and I hope that me doing it will help to create that ripple effect. I'm glad that Victus Soul is so supportive of that.
Find Victus Soul at 90 Mansell Street; click here to visit the website and follow them on Instagram at @victus_soul. Find Amanda on Instagram at @theglucosekid.
For updates on what's happening in the City plus exclusive offers and content for One City Friends, sign up for our newsletter here!