Not quite ready to shake off the summer colour and head into the muted tones of autumn? You're in luck – Brookfield Properties are keeping the City fresh and colourful with two summer spaces in the Square Mile. There's plenty to do and explore at Colourpoint at Citypoint (with food trucks every Weds & Thurs) and at Principal Pavilion at Principal Place – so if you're heading back to the office, enjoy some safe, socially-distanced spaces to relax and soak up the last summer sun.
Yoga at Colourpoint
If you're looking for a socially distanced, outdoor activity to kickstart your morning, Joelle Makwana from Nuffield Health is hosting free morning yoga sessions on Tuesdays and Thursdays, focusing on Vinyasa and Ashtanga styles. "Both styles synchronise movement with breath, so they become like moving meditation," says Joelle. "They're great for social distancing as you're stationary in one place, and with the anxiety that's come about with Covid and coming back to work, it's great meditation – it's designed to induce your parasympathetic nervous system so it brings your stress levels down. As far as Covid is concerned, it's also useful because it deals with breath, and teaches you better breathing practices to improve your respiratory health."
But if you're thinking of slow meditation that indadvertently just gives you time to think and fret about your working day, Joelle is clear to state that these styles provide just the opposite. "Most of us in the City are quite fast-paced – we're not just physically rushing around but also mentally processing a lot at one time. When we've got a lot on our mind and then try to slow down, we end up drifting off into thought. Whereas when the yoga is a flow and you're concentrating on your movement and breath, constantly moving and changing position, your mind is present – you won't be thinking about all the things you've got to do today, your meetings or planning dinner for the kids – whatever it is. This style of yoga slows you down but it's not such a slow practice your mind can go off and wander.
"The classes that I run are for all levels. There are always options to make things more challenging, or bring it down based on your level. I feel yoga is for everybody – these more traditional practices are accessible, not so much involving complicated handstands and headstands."
Yoga at Colourpoint takes place every Tuesday (Vinyasa) and Thursday (Ashtanga) at 7.30-8.15am, running until Thursday 8 October. Places are free; email joelle.makwana@nuffieldhealth.com to book. For Covid safety purposes, attendees are advised to bring their own yoga mats if possible; Nuffield Health mats will be available to those who don't have their own.
If you're keen to try it at home, we'll be live-streaming the class on Tuesday 8 Sept at 7.30am over on our Instagram – click here to find our page and tap our profile icon when it says 'Live'.
Sunrise Sessions
A silent disco getting you moving BEFORE your working day begins? Truly this is something to be experienced to be believed. Secret Sunrise is hosting morning sessions at Citypoint on 16 & 30 September bright and early at 7.30am – with sanitised silent disco headphones transporting you to a musical haven. Close your eyes, put your hands in the air and it'll be just like being at a club (remember those?)
Tickets cost £2 and all proceeds are going to Fat Macy's, a foundation working with young Londoners living in temporary accommodation. Fat Macy's provides a pathway towards independent living by inviting them to train with chefs and front of house teams to deliver culinary events and catering across London. Click here to book.
Principal Pavilion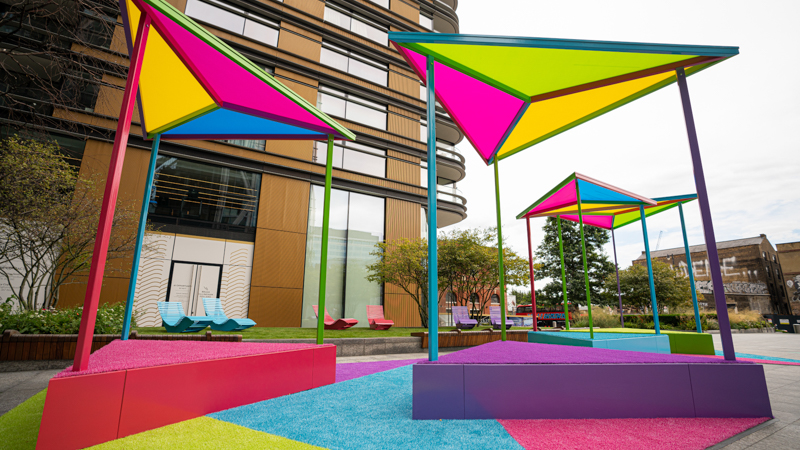 Fans of the 'gram will love the edgy, eye-catching design of the space at Principal Pavilion. If your office is closer to the Shoreditch side of the City, ditch your desk lunch and take your meetings, snacks and socialising outside at this arty, colourful spot at Principal Place. Be sure to share your pictures with us @OneCityLdn on Insta.
Colourpoint is running at Citypoint until Friday 9 October; click here to learn more. Click here to learn more about Principal Pavilion, running until Friday 25 September.
For more updates on what's happening in the City, sign up for our newsletter here!