It's the most wonderful time of the year, back again for 2019. We've no doubt you're indulging in plenty of food, booze and early presents to keep your mind off – erm – certain political current affairs, but some better news is that the City comes alive in December, with plenty of wintry pop-ups, novelty activities and dazzling lights to keep you feeling festive. If you're anything like us, we have a feeling a few of the below will have you wishing it could be Christmas everyday… 
Christmas Lights
The best thing to do in December? Walk around. OK, it's nippy, but it's worth it for the sights – take a look at our video to see where you'll find the best lights and decorated trees in the City. For light installations that are more thoughtful than festive, check out IlluminoCity at London Wall Place & Principal Place, with artists exploring ways of using light and glass to create intricate artworks (up 9 Dec – 17 Jan), or Imminence at Bloomberg Arcade, a climate-inspired public art piece from the producers of Lumiere London, consisting of shape-shifting projections lighting up the entire length of the arcade on the human impact on the climate crisis (lit up from 4pm, 5 Dec – 10 Jan).
Winter Pop Ups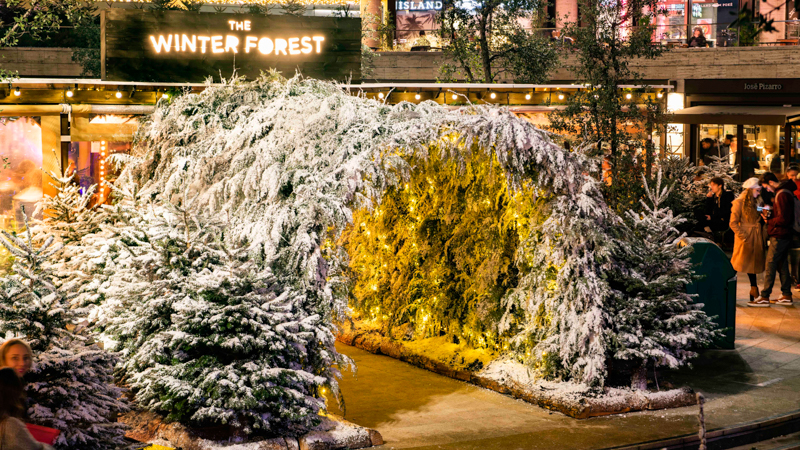 Spend time in the City and you'll soon find one or two beautifully decked out wintry pop ups, serving mulled wine to the masses. One of our favourites is the North Point at Citypoint (2 – 20 Dec), which has an incredible schedule of film screenings brought to you by the roaming pop-up organisation, Nomad Cinema. With all proceeds going to charity, you can enjoy Christmas classics plus some of Hollywood's most feel-good musical hits while knowing you're contributing to a good cause – as if the enormous beanbags and blankets weren't enough of an incentive.
If you're keen for more festive food and Christmas films, head over to the Leadenhall Building's 80s Après-Ski Lodge (27 Nov – 20 Dec) which has its own free weekly pop-up cinema. The best bit is probably the arcade-style ski simulator to remind you of the feeling of being up in the mountains – you can even flex your skills by taking part in their weekly tournament.
Lastly, don't forget to check out Broadgate's Winter Forest (6 Nov – 20 Dec), a miniature snowy woodland scene in the bustle of Broadgate Circle. Relax amongst the 200 pine trees or book in for a gin masterclass, a pub quiz, a visit from Santa, or another festive activity as part of their extensive line-up.
Christmas Sweet Treats
There's no better time than Christmas to pump yourself full of sugar and spice (and all things nice). So if you've been craving gingerbread and mincemeat since Halloween was behind you, you're in luck – some of the best café-bakeries in the City have brought a festive twist to their delicious classics.
At Butter Believe It (Spitalfields), indulge in mince pie cupcakes, chocolate-orange slices of cake, or our favourites, the cookies – including a soft, delicately-flavoured 'Ginger All the Way' (ginger with white chocolate chunks), or the truly tasty 'The Purple One', named after everyone's favourite Quality Street: true to its name with chocolate, hazelnut, and a gooey caramel filling.
Over at Cutter & Squidge (the Royal Exchange), the trademark biskies have got a festive makeover – tuck into a 'Snowman S'more', a chocolate biskie stuffed with veggie marshmallow with a melted snowman piped on top, or a 'Gingerbread Folk' biskie, with caramel, vanilla buttercream and of course, a little gingerbread man. Treat your whole team with a box of six – though no judgement from us if you end up eating them all yourself.
The Unexpected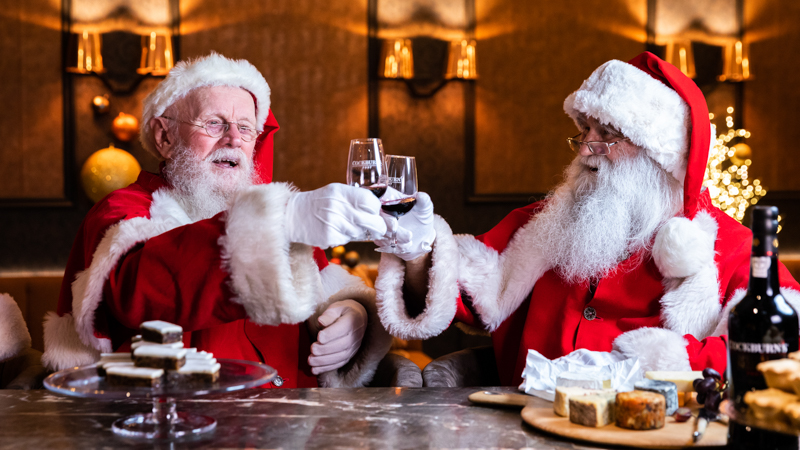 Lights, pop-ups and sweet treats aside, there's always the unexpected in this City of ours. Some alternative Christmas activities include: a Naughty Santa Brunch at M Threadneedle St, running on Saturdays up until 21 Dec. Bottomless brunch with a Christmas twist? It's already a no-brainer, and that's before you hear about liquor-laced lollies, candy cane shots, free-flowing Christmas cocktails, unlimited food and even a DJ. Book here for £55pp.
Meanwhile, over in Devonshire Square Smoky Barrels (Mac & Wild's little sister) are hosting a virtual hunting pop-up, taking you to a highland retreat to practise your aim and indulge in 'filthy good food' alongside open fires and a whisky wall. And of course, it wouldn't be winter without the Aviary igloos. Partnering up with Talisker whisky, Aviary Rooftop Restaurant & Terrace Bar are offering fantastic igloo packages with snacks and Talisker cocktails for a truly unique setting – rooftop drinking in winter, without the chill.
Christmas Day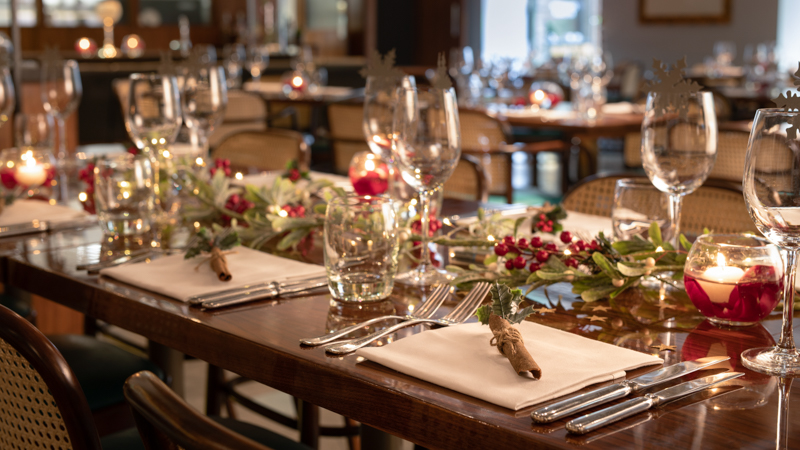 And if you're planning on spending the day itself in the City? You'll be well looked after. Bread Street Kitchen have a fantastic five-course menu waiting for you, including festive favourites such as smoked salmon canapés, saltwater prawn cocktail, roast turkey with all the trimmings, beef wellington, and chocolate fondant. See it off with a cheese board and espresso martinis – and no one to argue with about the washing up. Book here for £140pp (£35 for under 12s menu).
Or if you're looking for something a little different this year, indulge in a fantastic Indian tasting menu at Cinnamon Kitchen (Devonshire Square). On the menu are spiced lentil dumplings, tandoori portebello mushrooms, Tanjore style king prawns, pan seared goose breast, and rajasthani style venison to name a few – plus a garam masala Christmas pudding and other festive classics with an Indian twist. Book here for £60pp.
For updates on what's happening in the City plus exclusive offers, events and content for One City Friends, sign up for our newsletter here!