Ready to sign up for a City Gift Card? You'll be amazed at what you can spend it on around a working day in the City. In a series of blog posts, we'll be looking at how and where you can spend your pre-loaded points in the different areas of the City – kicking off with Aldgate. Explore the area, treat yourself and support local businesses at the same time, all in one day. What's not to like?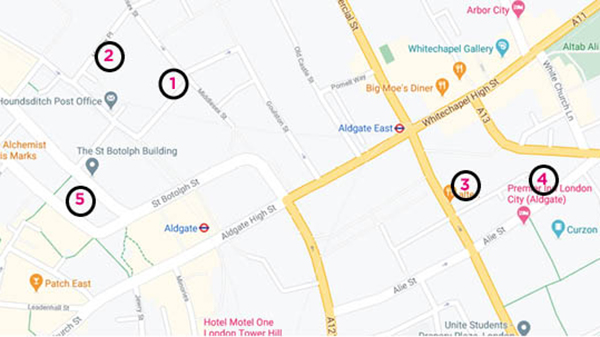 1 . Grab breakfast and check your emails at Benk + Bo
Trendy co-working space Benk + Bo has sustainability at the heart of what it provides: a relaxed space to spend time in with a vegetarian cafe in-house. Book in for a day or half-day, bring your laptop and enjoy a naturally-lit area with plenty of leafy plants, creating a mindful space you won't want to leave (aided by plenty of fresh coffee, obvs). Keep an eye on their website for upcoming events, workshops and brunch clubs, too.
Note: Benk + Bo is currently closed and will reopen in January 2021; in the meantime, explore Benk + Bodega, their online shop with gift bundles, vintage homeware and more up for grabs.
Find it: 4 Gravel Lane | click here to learn more
2 . Go for a treatment at Body Essential
If 2020 has earned you anything, it's a little self care. Treat yourself to hair treatments, Hot Stone massages, nails and much more at Body Essential, right around the corner. The haircare and beauty experts will have you spruced up and relaxed for the festive season – and beyond.
Find it: 8 Harrow Place | click here to book
Time to head back to work? You'll need an excellent coffee for that. Skip the chains and head to Shaman for some of the best hot drinks in the City, plus artisanal pastries, sandwiches and salads, bringing ethically sourced and expertly brewed coffee into your afternoon.
Find it: 15 Leman Street (within Leman Locke Hotel) | click here to learn more
4 . Have dinner at Emilia's Crafted Pasta
Catch up with your loved ones over a plate of the best pasta this side of Italy. Emilia's Crafted Pasta serves up recognisable, traditional recipes really, really well. From a 4 hour slow-cooked béchamel bolognese to a basil and pistachio pesto, this is cooking that an Italian grandmother would be proud of.
Find it: 77 Alie Street | click here to book
5 . See off the night at novelty bingo hall Dabbers
Move over karaoke and pub quizzes: novelty bingo is THE new nighttime activity to try out. Good thing one of the best is right on your doorstep – Dabbers puts a modern twist on the classic game with music, comedians, original prizes and hilarious hosts. It's open up for Covid-secure events, so book in with your bubble or household for a night to remember.
Find it: 18-22 Houndsditch | click here to book
Support City businesses by purchasing a City Gift Card here – launched by the City Business Improvement Districts (BIDs) & Partnerships with the City of London Corporation. You can also find out where you can spend it on the website, with more businesses being added by the day.
Follow the Aldgate Connect BID on Instagram here.
For more updates on what's happening in the City, sign up for our newsletter here!