As April came to a close not so long ago, a special event was taking place in the City: namely, the opening of Ekte Nordic Kitchen. The new-kid Scandinavian restaurant on the block (or within the Sir Norman Foster-designed Bloomberg Arcade, to be more precise), Ekte Nordic Kitchen is in for some stiff competition from its eight neighbours, including Japanese bar Koya (renowned for its udon noodles) and popular 20-inch pizza place Homeslice City. Nonetheless, this all-day Nordic eatery (brainchild of Danish restauranteur Soren Jessen, man behind 1 Lombard Street) is set to fair well when it comes to – pardon the pun – some Scandi fare.
Whether up with the birds and in need of sustenance as the dawn, well, dawns – as most City folk are want to do – or speeding through the day and in need of some fast luncheoning and/or the ability to take away, Ekte Nordic Kitchen has something for everyone.
Danish pastries and other similarly scrumptious baked goods are obviously available for the early risers, as are more protein-rich eggs and gravlax. That cured fish becomes a tad more 'mature' in its preparation by lunchtime, however, when you might find yourself caring to partake in some "snaps-cured dill salmon with pickled radishes, onion and beetroot". Is your mouth watering yet? No? Then, how about the ever-so-Nordic "mustard-marinated herring with caramelised apple"? Or for those with a sweet tooth that extends beyond the breakfast hours, how does the "Danish apple cake with cinnamon ice cream" sound? There won't be much sharing going on with desserts like that…
Of course, no Scandinavian eatery would be complete without Smørrebrød (those delicious open rye bread sandwiches our Nordic neighbours are famed for), and Ekte Nordic Kitchen is no different. Featured fillings on offer include "smoked trout, curried herring, Greenland shrimp, goat's cheese with burnt beetroot, and roast beef with burnt onion, light pickled cucumber and horseradish cream". Yum.
'Ekte' means 'genuine' or 'real' in Danish, but the menu is pan-Nordic. Nonetheless, it's not just the food which should draw you in with its proffered honest taste: the 60-seater space was designed by London-based Danish design studio JLKDS, and it's seriously City chic (certainly Instagram-worthy). Glass-fronted and in a relatively minimalist open-kitchen and bar layout, there is also an outdoor area for 20 additional covers (and the soaking up of solar rays while the weather lasts). Think charcoal grey and the occasional (faux) fur throw to soften angles inside.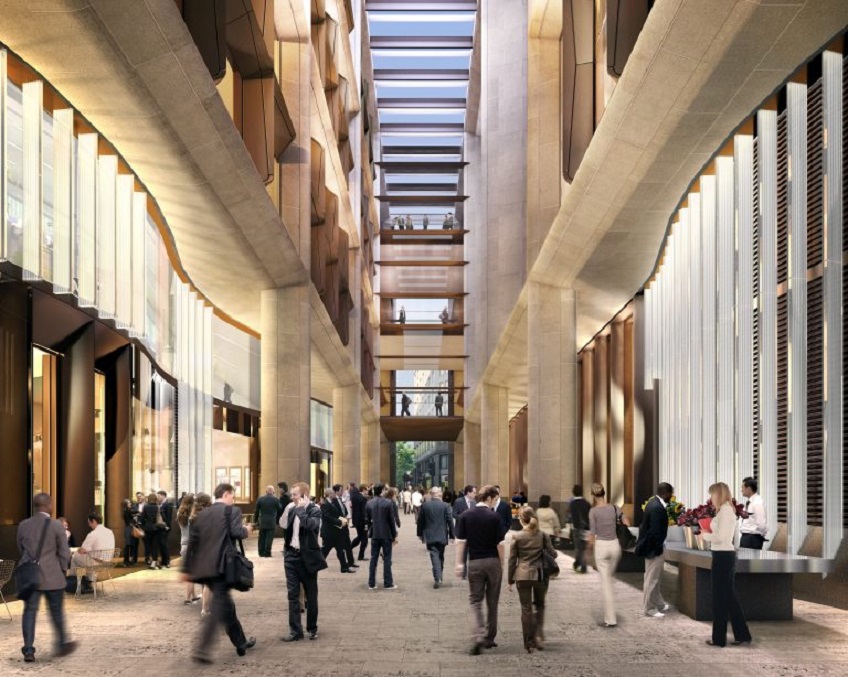 Essentially the new European headquarters of Bloomberg L.P., the Bloomberg Arcade opened in Autumn 2017 with a promise to bring the best in London's dining to the City; "a culinary destination like no other". Other restaurants within the sprawling pedestrian structure (which sits on a 3.2 acre site between St. Paul's Cathedral and the Bank of England) include Caravan Coffee and Vinoteca (both self-explanatory), together with Ahi Poké (Hawaiian Poké specialists), and London's favourite Bleecker Burger.
This month will also see the latest restaurant opening in the form of Brigadiers: classic Indian barbecue in a space reminiscent of "a traditional Indian Army Mess". We better save room, it seems!