What better way to celebrate London History Day than to learn about its historical heart, the City of London? Many of us are familiar with the most well-known buildings, like St Paul's Cathedral and the Tower of London, but we've rounded up five of our favourite hidden spots that casual tourists often overlook. Check them out below, and be sure to add them to your list next time you're in the City after lockdown.
Postman's Park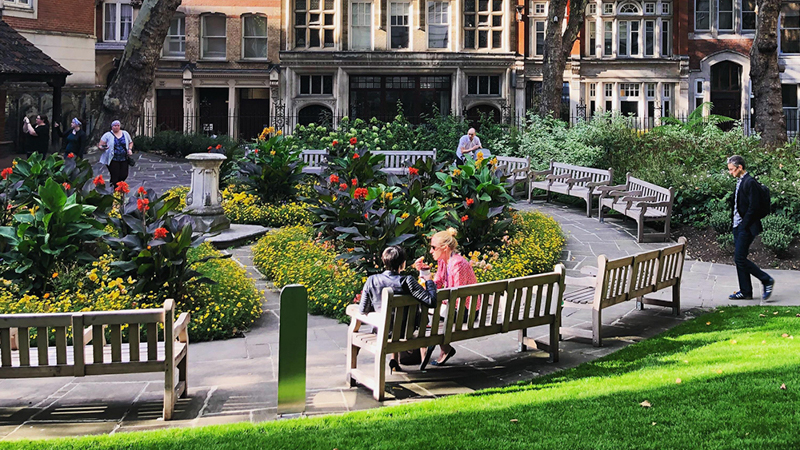 This little park is often overshadowed by its proximity to St Paul's, but it has qualities that make it a very endearing place to spend time. Originally a churchyard and burial spot, it got its nickname as postal workers found it a pleasant spot to eat lunch – but its real charm comes from its memorials. In the 19th Century philanthropist George Frederic Watts installed memorials in the park that commemorate the everyday heroes who lost their lives saving others – whether that be a 10-year-old boy drowning in an attempt to save a younger boy, or a woman who thrust numerous children to safety from a burning building before succumbing to the fire herself. It's a quiet, moving place to honour small heroes amongst the great giants of the City. Click here to learn more.
London Mithraeum
As the ground that now exists underneath Bloomberg was being excavated in 1954, a remarkable discovery was made: a 2000-year-old temple. Mithraism was a Roman religion centred on a god named Mithras, with a complicated system of initiations, rituals and commandments. The London Mithraeum was fully excavated and is now open* to members of the public to come and learn about this mysterious cult, with artefacts on display and a multi-sensory experience that transports you back to 200 AD. Click here to visit the website and find out more.
Cleary Garden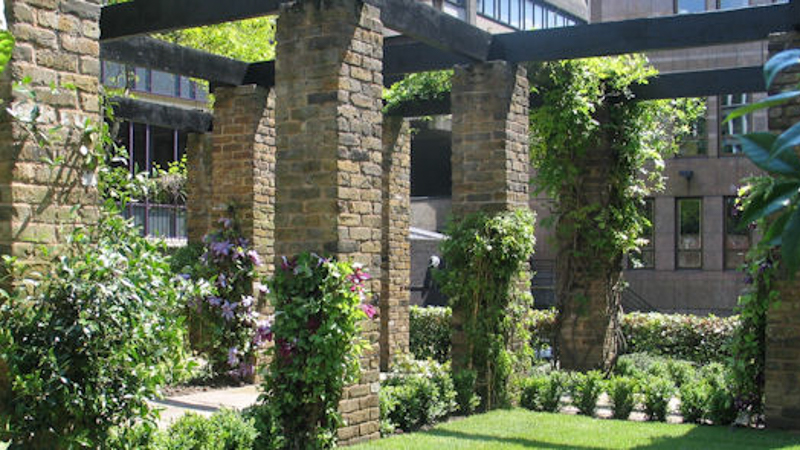 Another beautiful and unusual garden to spend time in in the City is the Cleary Garden. When a house was destroyed during the Blitz and its cellars were exposed, a shoemaker called Joe Brandis decided that he would create a garden from the rubble, collecting mud from the river banks and transporting soil from his own garden in Walthamstow to the site. What resulted is a beautiful park that has flora climbing the brick pillars of the old cellar. Named after Fred Cleary, an instrumental figure in creating green space in the Square Mile, the garden has also been designated a Site of Local Importance for Nature Conservation. You can find it on Queen Victoria Street.
Bleeding Heart Yard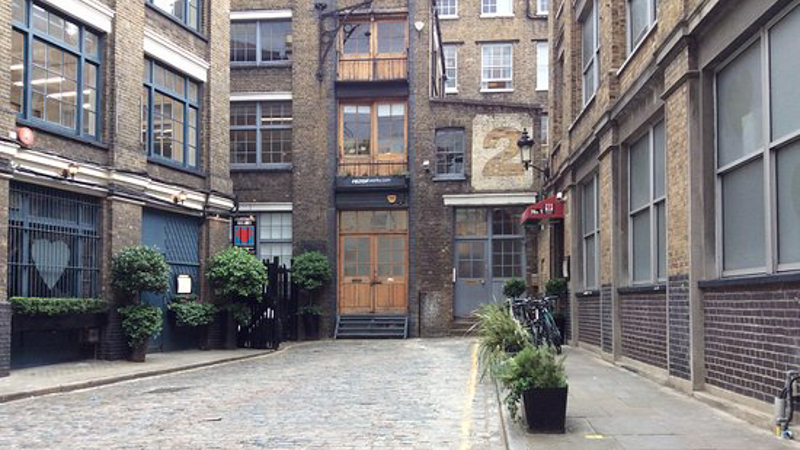 Yep, it's exactly as bloody as it sounds. This cobbled yard off Greville Street is believed to be named after the bleeding heart of Lady Elizabeth Hatton, whose body was supposedly found in the area 'torn from limb to limb, but with her heart still pumping blood' in 1646. So famous was the story, she even made an appearance in Charles Dickens's Little Dorrit, and other fictions had her dancing with the devil who would tear out her heart with his hands. In reality, the yard is probably named after an inn called the Bleeding Heart in the 16th Century, but that's a much less interesting story.
Masonic Temple at Andaz London
Another unexpected temple discovery in the City was that of the Freemasons. In a move straight out of Indiana Jones, during refurbishments for the Great Eastern Hotel (now Andaz), a wall was moved and this incredible hidden temple was discovered behind it. Built in 1912, it's considered one of the most grandiose Masonic temples in London and has been a backdrop to numerous photo and video shoots due to its dramatic, lavish appearance – Lady Gaga even stopped through for a Vogue shoot. Now, Andaz frequently hosts horror movie screenings in the temple for the ultimate spooky night out, and it's available for private hire (click here to learn more).*
*Please check the respective website to find out when the venue will reopen.
For more updates on what's happening online while London's on lockdown, sign up for our newsletter here!