July in London: a time of Pimm's, beer gardens, sticky tube carriages, carefully thought-out 'is this appropriate for the office?' clothing, and gleeful holiday anticipation (even if you know you're escaping the country during the hottest month of the year). It's also a time for the best summer event in the London calendar: Wimbledon.
For those unable to make it down to bask on Murray Mound with a tub of strawberries and cream, never fear: we've rounded up the five most interesting places in the Square Mile to watch Wimbledon in the sun.
The Rooftop on One New Change
If you can't be on the grounds, you might as well not be on the ground. One New Change presents tennis with a spectacular view, with the dome of St Paul's peeking over the screen. Lounge on a deck chair or bed down on a beanbag with a Peroni and cheer on the all stars at this scenic spot.
While you're there… take a look around Colour My Summer, a summer installation that has turned the whole rooftop green. Psst: live your best influencer life and snap a picture with the butterfly wings.
Bloomberg Arcade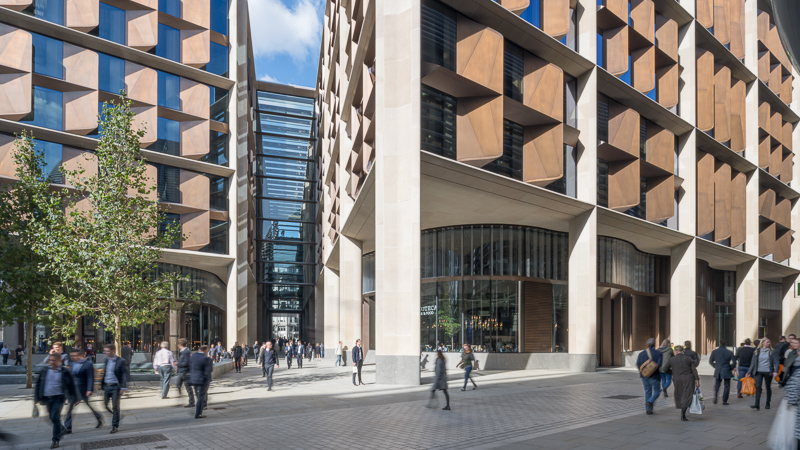 Bloomberg Arcade's incredible array of eateries means it's probably already a regular lunch spot for you (it certainly is for us) – so why not kick back and watch the tennis while you tuck into your Bleecker Burger? The Arcade is screening the home stretch of the tournament, with showings from 11 July onwards.
While you're there… sign up for yoga, live orchestra and brunch – all in one! On 20 July Bloomberg Arcade is hosting a yoga class with a soundtrack of live classical music, followed by a healthy breakfast at Caravan. You'll be the most relaxed one in the office. Click here to book.
Paternoster Square
It's an atmosphere like no other in this buzzing square – save this spot for the really tense matches. You'll get to keep an eye on St Paul's, and the Happenstance is waiting with your celebratory/commiseration pint after the match.
While you're there… grab a colleague and flex your own tennis skills; the Square has its own court set up. All right, it's table tennis, but it's close enough.
Greenpoint Summer Garden at Citypoint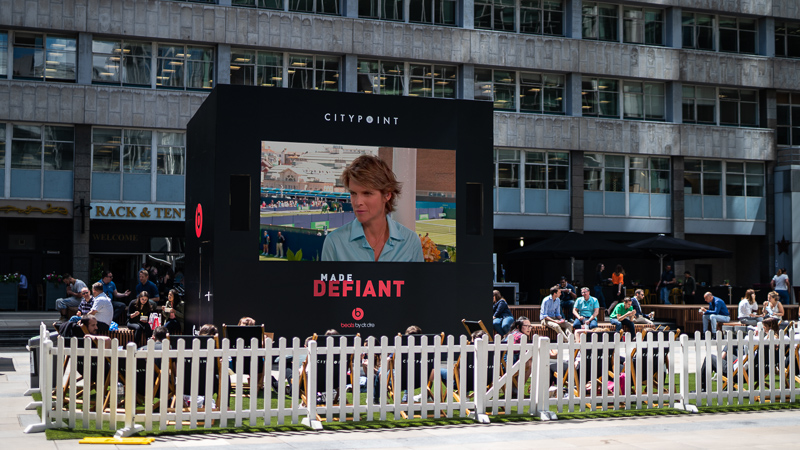 It's up close and personal at Citypoint's mini Wimbledon – you'll really feel as if you're part of the action in this intimate set-up. Surrounded by bars and eateries, you might just have to pull a sickie* to stay there all afternoon (*not endorsed by One City).
While you're there… spend some time in the Greenpoint Summer Garden, and make sure you come back for the outdoor cinema screenings, courtesy of Nomad Cinema. Click here to see the full line-up.
New Street Square
Western Citysiders don't have to head far for their Wimbledon fix – as part of Colour My Summer, New Street Square has been transformed into a blue haven with its own Wimbledon showings. The perfect post-work social event (with minimal physical movement required).
While you're there… grab a summer acai bowl from Crussh – with free tasters on 11 July! Click here for more info.
The Men's Final: South Place Hotel
It's the final – make it spectacular. You'd be forgiven for thinking you're watching the French Open if you head to the Rosé Riviera Southern France-inspired garden at South Place Hotel. Sip on Minuty wine and enjoy a cream tart under a beautiful floral canopy. It's even outdoors (sort of), with a retractable roof. Showing on 14 July; click here for tickets.
While you're there… well, stick around! The garden is open all summer long and is an ideal retreat away from the City – there are even be cinema screenings under the canopy. Click here for more info.
Game, set and match!
–
For updates on what's happening in the City plus exclusive offers and content for One City Friends, sign up for our newsletter here!