Take a wander up to the northern edge of the City and you'll spy the three distinctive tower blocks of the Barbican Estate: an iconic part of City architecture since its development in the sixties. This 35-acre site forms one of the most interesting areas in London, so we've taken it upon us to round up five interesting things you might not know about the Barbican Estate.
A Brutalist Look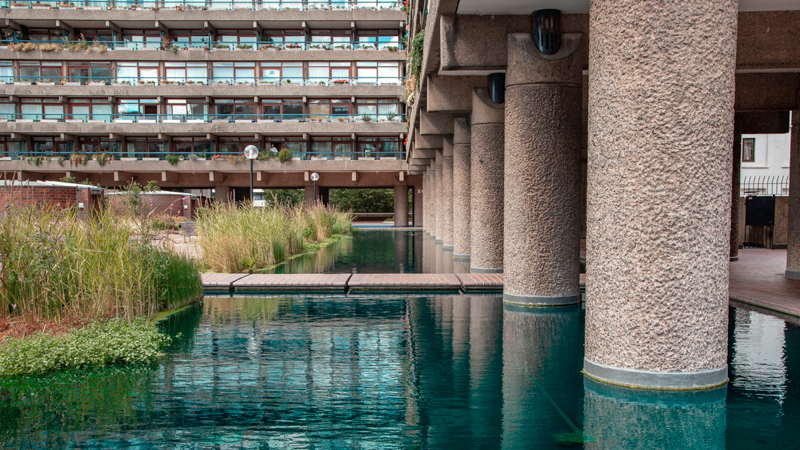 Contrary to what you might think, the architectural term 'brutalist' wasn't named for its 'brutal' appearance (at least, not in the sense we think of it today) – in fact the term comes the French béton brut, meaning 'raw concrete', and coined by architects Alice and Peter Smithson. Brutalist architecture boomed in Britain in the sixties, the principles of which lie in high-rise tower blocks, rough, unfinished surfaces, and straight lines. It's something of a marmite style of architecture today, either loved or hated by onlookers – but whatever your thoughts, it gives the Barbican Estate a very distinctive look.
Walking in the Air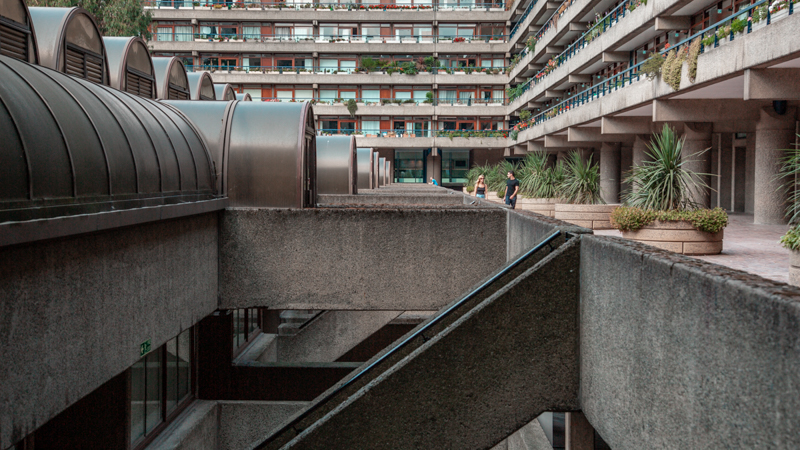 After the Blitz destroyed a great amount of the City in the 1940s, there were grand ideas for what the City might look like in its modern day – including elevated pedestrian walkways that lifted its citizens high above the traffic below. The 'pedway' was designed to clear the streets of pesky pedestrians so traffic would increase, but it was largely abandoned or demolished due to a combination of being too expensive and too rarely used. For now, the only way to experience what it might have been like is to wander around the Barbican highwalk – making the Estate even more of a time capsule of British architecture.
City Living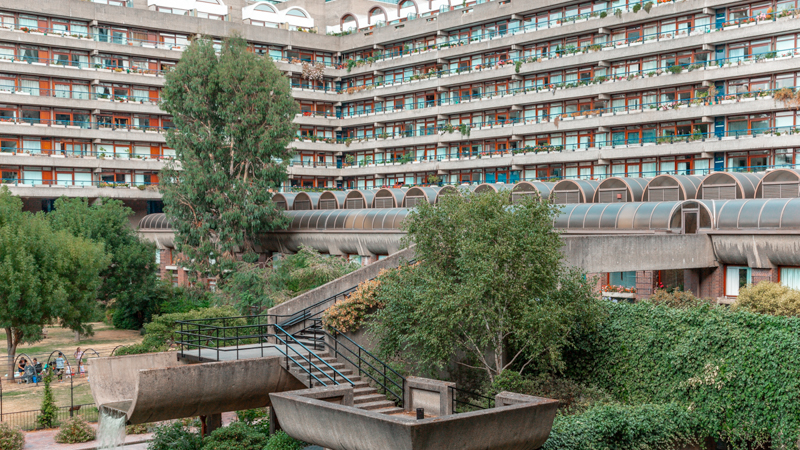 The City of London has half a million people pass it through every day, but only around 9000 residents. Of these, roughly half live in the 2000 Barbican flats, with landscaped gardens, the lake, a school and a church right on your doorstep – plus one of the most prestigious arts centres in the world, of course. The flats were initially built for City of London Corporation workers and their families, but after Thatcher introduced the 'right to buy' scheme they were largely bought out by wealthy Londoners, a mix of retirees and working professionals. They're not known for being spacious, but you can't beat the location – and as a result a Barbican flat today would set you back around £2.5m.
'One of the modern wonders of the world' – HM the Queen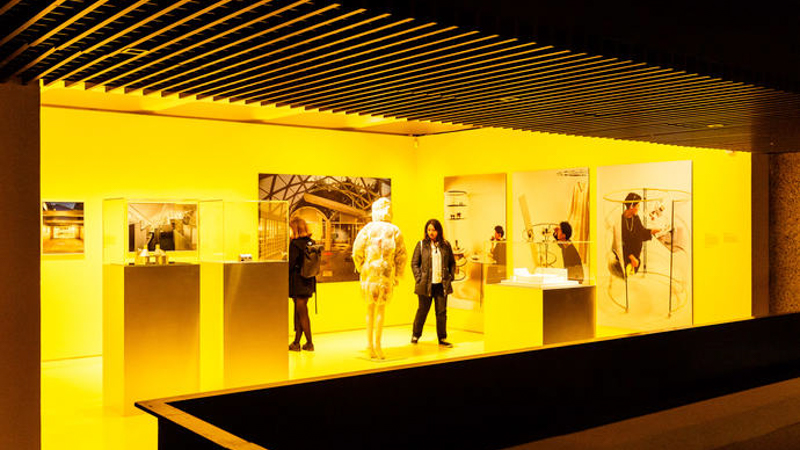 Image: barbican.org.uk
Speaking of that prestigious arts centre, it's impossible to underestimate the cultural impact of the Barbican Centre, the largest of its kind in Europe. Home to the London Symphony Orchestra and the Royal Shakespeare Company among others, it boasts an enormous programme of theatre, classic and contemporary music, dance, cinema, art & design, and more; in 2018-19 it hosted over 4000 arts and commercial events. It's not surprising Her Majesty considered it a 'wonder of the world' when it opened in 1982.
A Tropical Oasis
You might not expect much flora and fauna within that brutalist, inner-city facade, but you'd be wrong: the Barbican Conservatory is home to over 1500 species of tropical plants and trees – some of which are endangered in their natural habitats – plus a variety of exotic fish. It's open to the public on weekends, and available for wedding hire – it even hosts afternoon tea on select weekends throughout the year (keep an eye on One City for upcoming dates). Check out our video above to see a glimpse of the Barbican Conservatory.
Have we missed any of your favourite facts about the Barbican? Drop us an email at info@onecity.london to let us know.
–
For updates on what's happening in the City plus exclusive offers and content for One City Friends, sign up for our newsletter here!