For a while there in February it seemed like spring might very well have sprung. The brollies could actually have a break for a few days; the rainproof coat a rest upon the rack. Nonetheless, though March may have swung us determinedly back into a more apt wintry chill – replete with the rain and bluster garnered upon us most recently by Storm Freya – it is through dreams that we continue along the quotidian path, day in and day out. And what more warming dream is there when sat at one's desk than the image of summer, strolling through a roof top terrace with a view and resplendent with plants, luxuriating in the sun-kissed touch of light only lofty heights can offer?
Well, take heart: such a dream doesn't involve any pricey trip to the Continent, but rather has come into existence fifteen floors above ground level at One Fen Court, "a building of a hundred views". Open to the public and completely free, Garden at 120 is accessible via lift to those who want to walk about away from the usual humdrum, pedestrian crowded pavement pounding at 120 Fenchurch Street. With 450,000 commuting into the City every day for work, this is sure to be a very successful garden sanctuary indeed.
The new HQ of Generali, the Italian insurance group, One Fen Court was designed by Eric Parry Architects and sits midway between the Gherkin and the Walkie Talkie. The Garden at 120 rests at the peak of One Fen Court and its approximate 3,000 sq. ft. were landscaped by the German company Latz + Partners. Its vista stretches to London Bridge and Canary Wharf, as well as the across river Shard, of course.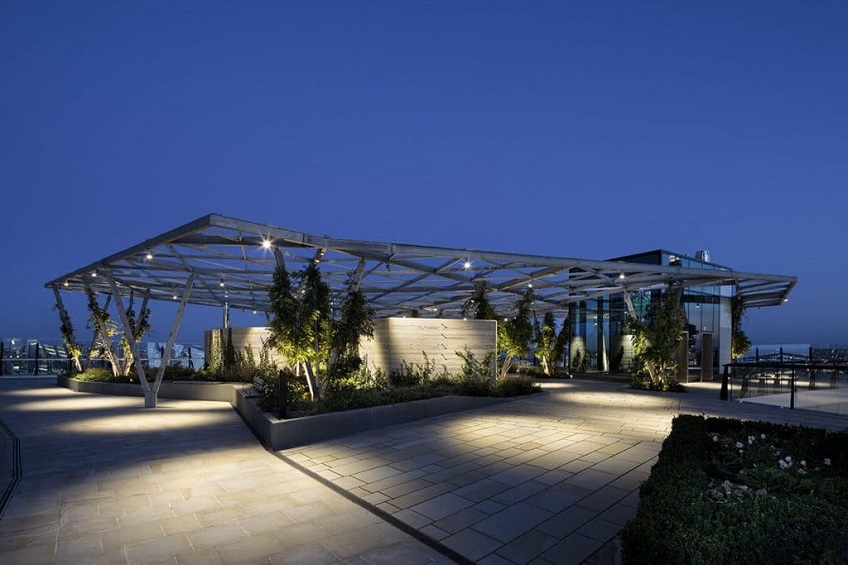 As far as gardens go, the Garden at 120 offers the expected peaceful ambience, the effect of "neatly trimmed hedges, wildflower patches, and tranquil water features" brought together with a statement piece metal pavilion which, come summer, will be adorned by the sweet pungent bloom of Wisteria. Who needs an escape to the Home Counties when the glory of Shire gardens can be enjoyed in the heart of the City?
Currently open weekdays between 10am and 6.3opm, summer times come into effect as of 1st April, when you can head up to these landscaped heights until 9pm each day. Weekend opening hours are also being trialled, from 10am to 5pm.
Of course, you probably know what comes next… Yep, you guessed it: being as this location is at the epicentre of City dining, a new restaurant is set to appear in the none-too-distant future on the level beneath Garden at 120, the venue offering near 8,000 sq. ft. of space to work with in hospitality and top-notch gastronomic manner. So stretch those dreams of wandering en plein air to the working up of an appetite for afterwards, too – but do head along for the simple joy of the open air experience now as well! Trust us: it's worth it.
–
Want more updates on what's happening in the City? Sign up for our newsletter here!