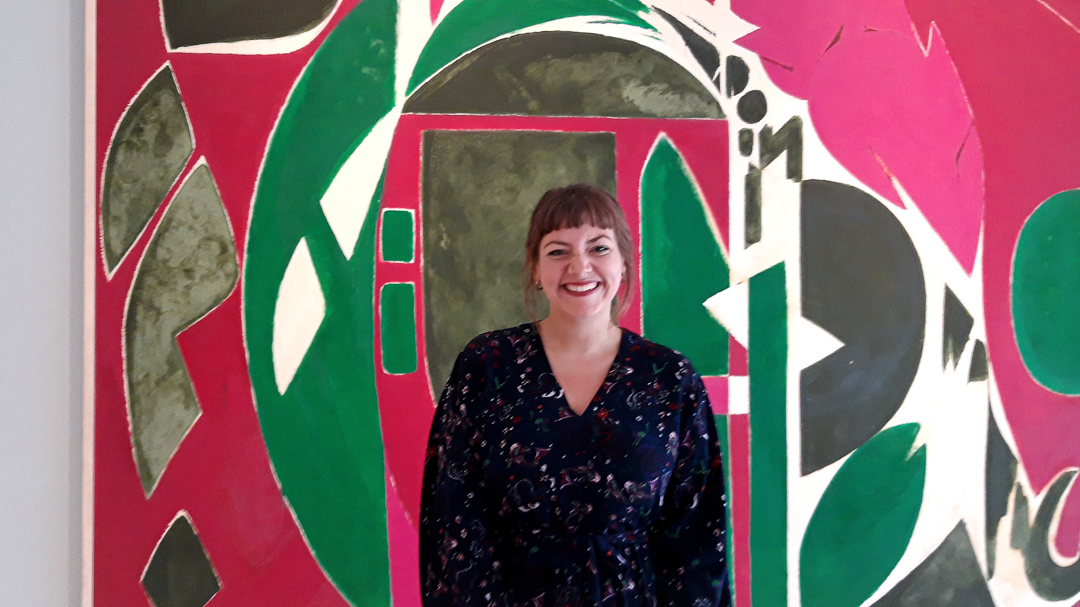 'Vibrant, electric, and playful': Charlotte stands against Palingenesis, 1971, on display as part of Lee Krasner: Living Colour
What goes into creating one of the most acclaimed exhibitions of the summer? The highly experimental works from expressionist artist Lee Krasner have rarely been celebrated in such a thoughtful way as they are in the Barbican Art Gallery's summer exhibition – Lee Krasner: Living Colour, showing until 1 September. But how did it go from a spark of an idea into a full-blown, multidisciplinary exhibition? We sat down with Exhibition Assistant Charlotte Flint to learn about how the show (and others like it) came to be, and what it's like working at one of the leading art institutions in the world.
Tell us how you got into the role as Exhibition Assistant at the Barbican Art Gallery.
Charlotte: Around eight years ago I went to see an exhibition, 'Postmodernism: Style and Subversion 1970 – 1990' at the V&A, and completely fell in love with exhibitions and what goes into making one. I was studying Postmodernism at university at the time, but I couldn't get my head around it until I saw this exhibition and it all came to life.
I was doing a History of Art BA, then I moved to London seven years ago to do my MA in History of Design for two years. After that, I worked at the Hayward Gallery and the V&A in a mix of production, curatorial and logistical roles. I've been working here for two years.
What does your role entail?
No day is ever the same, it's really great. It's a small team looking after a very big programme, considering we do three shows in the main gallery and three in the Curve, which means you get to do a bit of everything. It's hard to describe day to day what my role's like, it sits across the curatorial side which involves making the exhibition, doing the research, doing the public programme and the catalogue – I get to do a lot of writing, which I really love – and then there's the production side, which would be working with an external architect and graphic designer on every aspect of making it a visible show. Then there are all the loans, transport and logistics. It's a massively varied job, so it's really exciting.
The programme here is modern and contemporary, which is what I'm interested in anyway, but the type of shows really vary – so for example the Krasner show is monographic show of a singular late modern artist, but before that Another Kind of Life was a photography show of 20 artists, most of whom were living. The exhibitions cover both sides of the spectrum.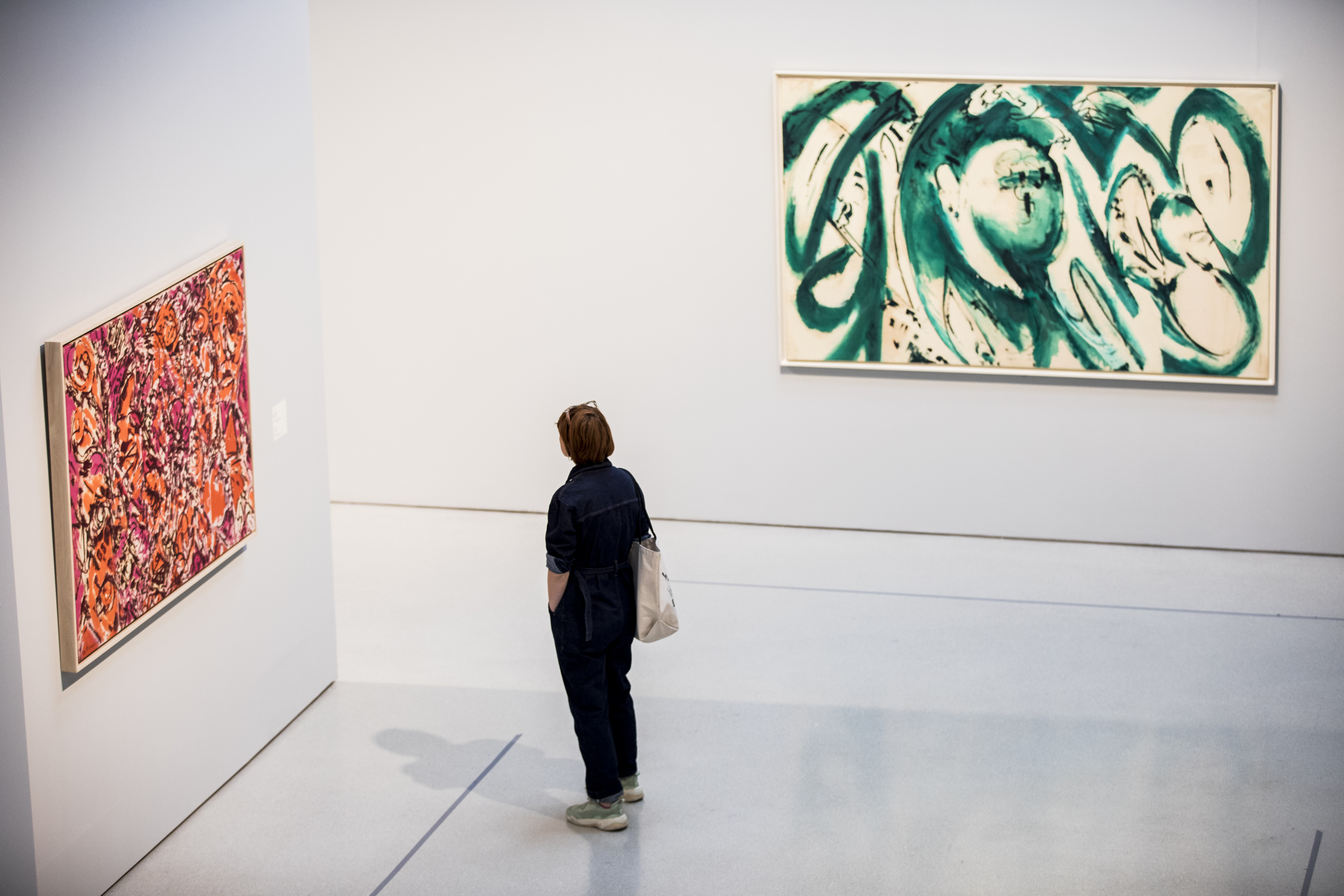 Lee Krasner: Living Colour Installation View with Chrysalis, 1964 and Portrait in Green, 1969. Barbican Art Gallery, 30 May – 1 September 2019. © Tristan Fewings/Getty Images
Why did the Barbican decide to exhibit Lee Krasner?
Eleanor Nairne, the exhibition curator, saw a small touring exhibition of Krasner's work. There hadn't been a show of her work in Europe since 1965 – she's not very well known here. Eleanor bought her biography and then started reading more about her, and this story unfolded – she was an incredible woman, born to Russian jewish émigrés in Brooklyn (her parents had fled Russia because of anti-Jewish violence); she decided to become an artist at 14, and then went on to have this incredible artistic training. She was working for the WPA during the Depression and made work all through the war, and built an esteemed reputation in New York.
Krasner's always been present within recent art history and contemporary art but she's generally seen as Mrs Jackson Pollock, so here we wanted to have a solo show about her as an individual and her work, rather than being seen in the shadow of Pollock or even alongside him. The decision was made very early on not to include any of Pollock's work, and to focus solely on her. Lots of female abstract expressionists were sidelined in favour of their male counterparts, so the more Eleanor read about her story, the more she thought this would be an incredible exhibition about an artist – not just as a woman in the shadow of her husband, but as an individual creator.
How would you describe Krasner's work to someone who's not familiar with her or the style?
Krasner always worked in cycles, saying she always listened to her inner voice and rhythm, so the work she created really varies, which is something I love. In the exhibition we have eight small rooms upstairs, all of which have different bodies of work; downstairs we have four sections again all with different bodies of work. As an exhibition, it's enormously varied. The term 'Living Colour' describes her work really well – it's very vibrant, electric, playful, experimental – she was constantly seeking out new ideas. The exhibition is predominantly made up of paintings but then there are also a lot of works on paper that she did, lots of drawings, charcoal, crayon, works on paper with gouache on handmade paper that she'd dip in the bath, collage – all playful and very varied. That's what I like about it so much as an exhibition, it's so broad – you come out of this with this sense that you've seen a whole life's career. She was making work from the age of 18 until almost up until she died. 50 years of work is on show here, which is amazing.

Lee Krasner: Living Colour Installation View with Composition, 1949 and Stop and Go, c.1949. Barbican Art Gallery, 30 May – 1 September 2019. © Tristan Fewings/Getty Images
What's your favourite part of the exhibition?
Krasner's got a great turn of phrase – she's really interesting to listen to in interviews. What we wanted to do with this exhibition is foreground her voice, so each section of the show is introduced with a quote from her. We felt that we wanted to stay true to her way of working and her way of speaking – I like that we've integrated her quotes throughout the show.
I love the way it's designed. The gallery always starts as a big concrete empty space, and for this exhibition we worked with David Chipperfield Architects. Their vision from the very beginning was to strip it back, rather than add to it. With big paintings like some of Krasner's, it's rare for them to have so much space to really sing, so what the architects wanted to do is let the work tell the story. It's a clean, mid-century modern aesthetic that makes the work look beautiful. Sometimes exhibition design can almost forget about the work it's showing off, but here it's at the forefront and I love that.
You mentioned earlier that Krasner is often overshadowed by her famous husband. How important do you think it is to be giving this platform to women in the arts?
I think it's incredibly important, but foregrounding the work of women is just as important as foregrounding the work of anybody who's experienced a barrier to the culture industry. You're addressing really big questions about racism, homophobia, ableism, classism – all of these things – just as much as sexism and the representation of women. That's what I love about working here – there's a designated Equality and Inclusion Group, and these issues of accessibility, diversity and equality are at the forefront of all the programming we do across the whole Centre.
What would your dream exhibition look like?
That's a good question! I'd really like to do an exhibition about Black Mountain College, which was a college founded in 1933. When the Bauhaus was closed by the Nazis, lots of the teachers there went over to Black Mountain College and it became this liberal arts college in California. They had so many incredible artists there – Josef and Anni Albers were teaching there, Buckminster Fuller (who made the Geodesic Dome), Merce Cunningham, John Cage, Franz Kline – this incredible roster of artists but also performers, dancers, musicians, engineers, designers … it was this amazing melting pot for experimenting with what art and design could be. I think that could be a really great exhibition, a group show looking at lots of different art forms and styles. Because the Barbican's an interdisciplinary art centre, I feel it would reflect that really well.
Another really nice thing about working in the art gallery here is that you can collaborate with all the different art forms. So for Lee Krasner we're collaborating with music and we had a jazz performance alongside the show. It offers lots of different ways into exploring a subject, plus all the different disciplines.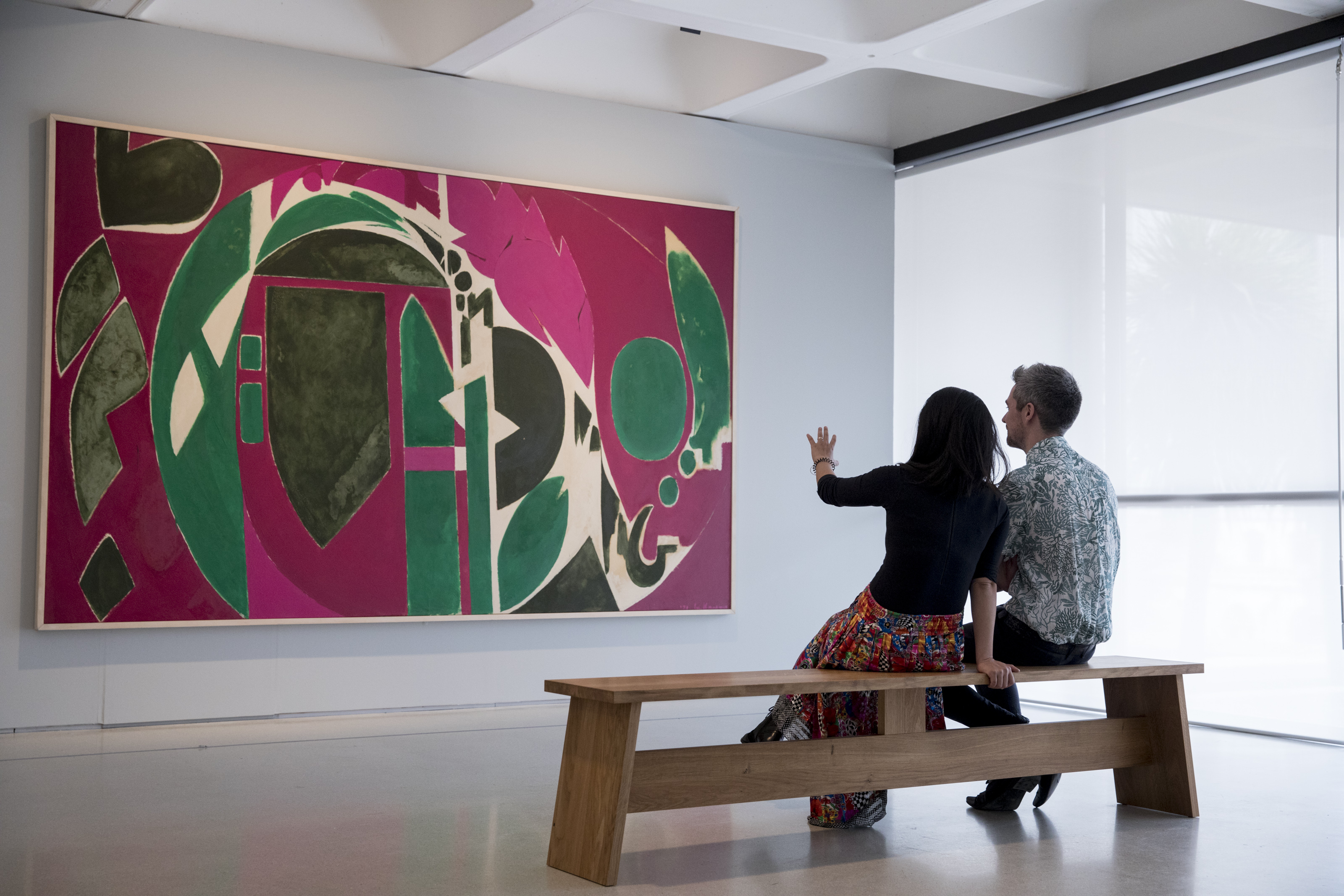 Lee Krasner: Living Colour Installation View with Palingenesis, 1971. Barbican Art Gallery, 30 May – 1 September 2019. © Tristan Fewings/Getty Images
What's a typical day in the life for you?
No day is the same! I always walk to and from work from Stoke Newington, but my hours vary – it's usually Monday to Friday but if we're installing or de-installing an exhibition or if there are events we work at all kinds of hours. Sometimes I'll be researching in the library, some days I'll be in back to back meetings with external collaborators, from graphic designers to architects to lenders to institutions. It's always very varied, and I take advantage of being here, always going to the cinema here or seeing music. I feel very lucky to be working somewhere where there's so much going on, not just in the Barbican but in the area itself.
What's been the most unexpected part of the job?
It's so varied you almost don't get taken by surprise any more. Working with living artists can be very interesting – you can't predict it, which is always exciting. Some artists are very relaxed in the sense that when they're working with a curator they're happy for you to take the lead on how the story's told, but some like to be involved in different ways. Every artist we work with is unique and everyone has their own approach. It makes you very flexible and agile, and you build nice working relationships with them.
What advice would you give someone who wants to go down a similar career path?
It's competitive, but don't let that faze you. If it's something that you really want to do, you'll find a way, and I feel really lucky that it's worked out for me. Keep going and stay true to why you want to do it in the first place.
Working in the arts can be challenging but the reason you go into it is loving what you do, learning how to communicate ideas to people in interesting ways, and it drives you, so always remember why you're doing it – and take advantage of all the great stuff it brings you. I get to meet incredible artists, creators and writers, and see loads of shows and work with beautiful paintings, and for me, making sure I stay true to that is the most important thing.
Lee Krasner: Living Colour is on display at the Barbican Art Gallery until 1 Sep 2019. Click here for tickets and more info, plus related talks and events.
For updates on what's happening in the City plus exclusive offers and content for One City Friends, sign up for our newsletter here!