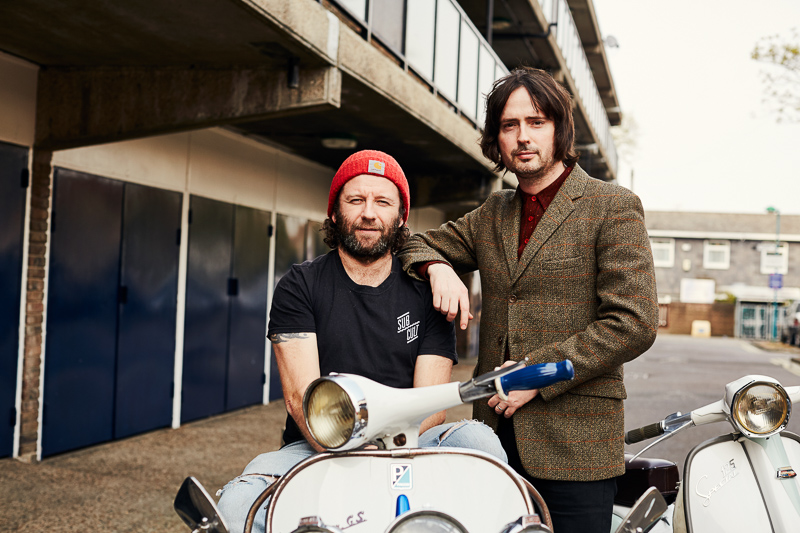 'This quirky little island has birthed so many subcultures – they've always fascinated me.' Such was the starting point for old friends Ben Chancellor and Gareth 'Gaz' Phillips, merging love for food, music and fashion into the ultimate sandwich brand. Sub Cult puts a very British spin on the great American sandwich – a place where submarine rolls pay homage to stylish subcultures.
After five years, the 'sandwich kings of the street food scene' (Time Out London) are putting down roots in the City, growing from a monochrome van (the 'Soul Roller') to a shiny new store in Watling Street. Ahead of the big launch later this week, founders Ben and Gaz sat down with One City to talk all things Sub Cult.
Tell us the origin of Sub Cult.
Ben: It's a bittersweet story – I was working in PR and I got very sick, and I was signed off work for a year. It made me rethink everything. I thought if I start something for myself in an area that I love, perhaps things will be more manageable. I was really interested in the street food scene, seeing successful London-centric chains launched off the back of street food – there was a real zeitgeist going on, but no one was doing the American sandwich. I'd been out to the States at 19 and was blown away by Sub sandwiches out there, thinking 'man, this isn't a sandwich, this is next level – this is something completely different'. America's the home of the Po' Boy, the Sloppy Joe, the Reuben, the Philly Cheesesteak … they absolutely think of a different value proposition as a sandwich.
Gaz and I are old friends; Gaz was living in America at the time. I'd had an idea for a food business already, but whilst Gaz was away I was going down to markets like Street Feast and Maltby St, and I kept coming back to the American sandwich, thinking 'why is nobody doing it?' At the time I was a proper die hard mod – I've always been interested in subcultures from a sartorial perspective. I wanted to tie it all in together – music, fashion, and food. I was in the bath one night and I had this eureka moment – 'sub cult'! I leapt out of the water like a dolphin and phoned Gaz, who was in America – weirdly, he'd been thinking about sandwiches out there as well.
Gaz: I'd been eating incredible sandwiches in the States. When I got back an opportunity came up in Dalston – a friend asked if we wanted to do a pop up in a pub. We'd been trading out of a gazebo in Soho, then suddenly found a new home in Dalston. We got some press attention from it and stayed there for 18 months – it was great, we had a prep space, storage, stash, and we could sell our sandwiches in the pub and prep for events and markets. We got a van after around six months.
Ben: As press caught wind of it, we were popping up in 'best sandwiches' lists, and we ended up doing quite a few kitchen residencies around east London. We entered the British Street Food Awards and won 'Best Sandwich' and 'Best Vegetarian' categories, which were judged and awarded by Michelin starred chefs. That got us on the radar and we started to collaborate with chefs like Tom Aiken. We ended up in his restaurant in Chelsea, doing lobster sandwiches, a whole lobster in a sub – our sales in his restaurant ended up being better than his sales overall! After getting into the more decorated markets like Maltby St and Street Feast, we went to a forum and connected with CODE Hospitality – soon they and a few others were investing in us. We managed to open a shipping container in Liverpool Street, and are now opening a brand new site in Watling Street. It's really been quite the journey and not without its peaks and troughs.
Being in the City is great – the workers love the sandwiches, they want lunch that's tasty, gourmet, filling, and quick. We've built a fanbase here – this is where the sandwich belongs. It's a daytime food, and we've really refined our menu. We're hoping this'll be the first of many targeting the Square Mile, after which we can look beyond it. A lot of the City workers love that we're independent – one guy came in and said he felt like he was 'cheating on the system'. We're not from the same background as your average chain, we've come from street food.
What are some of the challenges you've faced in the London food scene?
Ben: Street food is a hard graft – it's weather dependent, seasonal, really physically hard. We've had some difficult times, as any street food trader could tell you – even when you're really busy, it's make-or-break quite often every year. Winter's got the lean months, summer's where you make your money. One of our worst moments was literally the day before we spoke to CODE and began our investment journey: we were driving to Essex to pick up our catering van, driving in the workhouse van that did all the supply runs – it was winter so it was gloomy – and the van broke down. It was bleak – we'd come a cropper with a problem that was completely out of our control and had nothing to do with our performance, and we were deep into our overdraft. We looked at each other and said 'let's just call it a day, eh?'
We were planning on rolling the company up when we made it to that forum the very next day, and good fortune came along. Really miraculous. Here we are.
What's your daily routine like?
Gaz: Given that we've got the shipping containers and now a new shop to prepare for, as well as the street food van, our days are pretty varied. I'm more on the operations side, so in the mornings I'll usually head down to the arch at 7am to pack up all of the deliveries that come in the middle of the night, then get ready for a day on the markets. I'll drive the Soul Roller into town, at Broadgate on weekdays, drop the van in situ, meet the staff who'll be working on it, set them up for the day, then head over to the new shop. I'll have site meetings, staff meetings, talk to suppliers, then have a working lunch with our consultant. After that I'll head back to the van and reverse the process – drop the van back at the arch, get the stock packed away.
Ben: The landscape's totally changed to when we began. When we first started, for the first few years we'd have two markets on the go every day – Gaz would be doing one, I'd be doing the other – and at one point, we had three kitchen residencies running at the same time. It was absolutely crazy, we'd all be deployed in different areas. Sub Cult's growing up now, so a day in the life is totally different. I'm normally replying to lots of emails and spending my days in meetings with PR consultants, investors, accountants, lawyers, web designers, whoever it might be. We do private events for huge brands, and have even been asked to do TV appearances. Then we've got our family life as well. There's no 'day in the life' the way there used to be – but we're riding the wave. We take each day as it comes.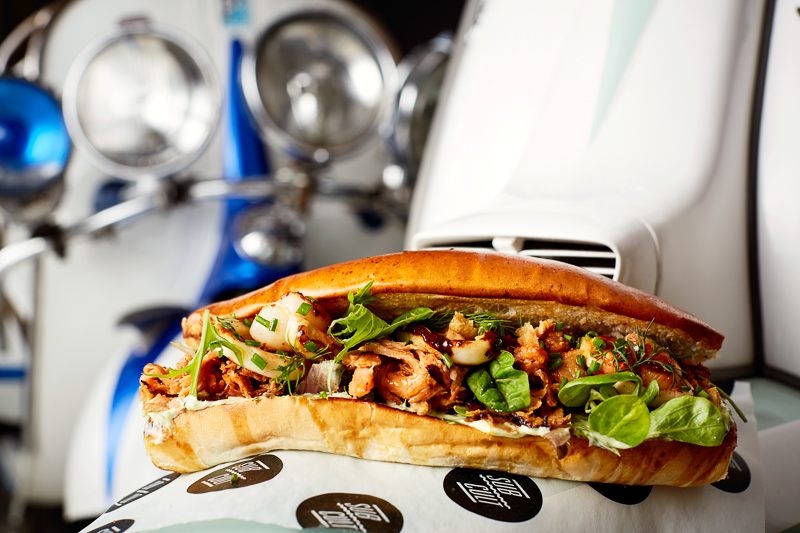 What's the secret to a good sandwich?
Gaz: We keep our sandwiches really accessible with some flourishes of magic in there – whether that's adding some decadence with truffle, or creating unusual combinations like our pork and seafood 'Submarine' sandwich (pictured above) – people always think 'I wouldn't have put those ingredients together' but after they've tried it, they're sold. You want the sandwich to be accessible enough for people to come back daily. Our best-seller is the chicken club, a straightforward sandwich – with our own Sub Cult magic in there.
Ben: We never try to reinvent the wheel – we looked at all of the American classics and played around, honing our menu down to just four subs for breakfast and eight for lunch, including our seasonal special. With the seasonal sub, we love to collaborate with suppliers and chefs to create something really fresh.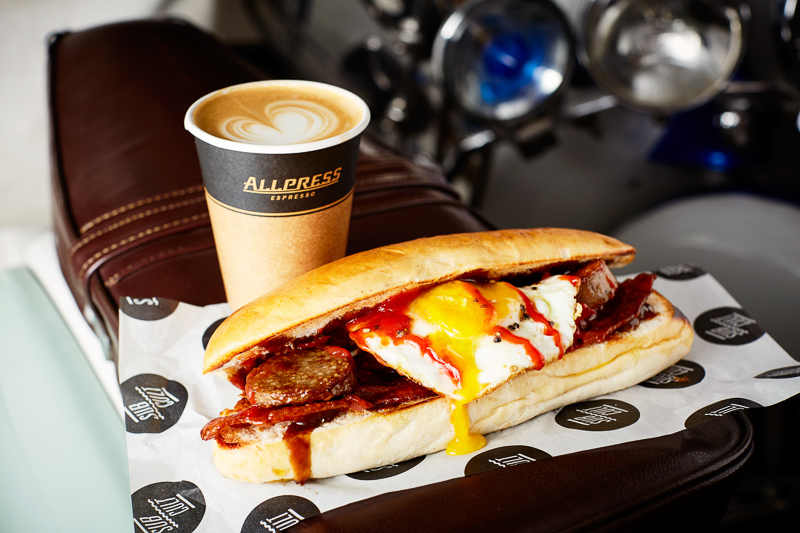 Where's your favourite place to spend time in London?
Gaz: I really enjoy going to Peckham – my brother (who's our Head Chef) runs a music event each month in the Bussey Building, which I love to go to. It's child friendly, so I can take my little boy and my wife and we hang out in Peckham for the day.
Ben: I've been in London 16 years, used to love Camden and Shoreditch areas, but I'm 41 now with an eight-month-old baby so my regular spots have changed. Gaz and I love a quirky old pub. At the moment, as middle-aged as it sounds, I can often be found traipsing around Beckenham Place Park which is this amazing green space which I think rivals Hampstead Heath and Richmond Park. It's an old stately home which was a golf course for a while, but then given to Lewisham Council. The Bussey Building guys come and throw vintage fairs, street food fairs, yoga, record store days, things like that. It's really beautiful grounds, sweeping hills, forests and lakes – you can walk for miles and miles. When work gets stressful (and I'm a West Country boy, a country boy at heart), I go there for some 'tree-bathing' which is very therapeutic to the soul. Getting a good work-life balance is so important.
London offers an awful lot, you've just got to scratch the surface to get into the underbelly of it, but the more diverse and unusual spots you find, the better. The markets are such a key part of this city, all the street food markets and the vintage fairs – it's a lovely tapestry for London.
What advice would you give to someone looking to start their own food business?
Gaz: The advice I always give it to never do it alone. Do it with a partner. It's too much on your own – I've seen people burn out. Do it with someone that you trust, ideally someone who's got a skillset different to your own.
Ben: Gaz and I complement each other perfectly – my background is PR, marketing and sales, whereas Gaz's has always been operations, events and cheffing – and we learn from each other all the time. But the fact that we're such good friends is great for morale. A lot of people say 'don't work with mates' but we personify the reason to do it: you can call a spade a spade when you're close mates and it makes things a lot easier when you're going through tough times.
The other advice I'd give is not to try and reinvent the wheel. Look at what you think is missing out there, but stick to something that has universal appeal, especially in the current market, with the shadow of Brexit and big chains going belly-up. There are trends, but certain markets are quite saturated; choose something where there's room for growth and isn't too obscure.
Also – don't despise humble beginnings, and be prepared to fail. Someone once said to me 'when you fall, fall forwards and pick something up when you're down'. There's no such thing as failure with the right outlook – always stay learning. Things can trip you up that are out of your control – it's not a walk in the park. But we wouldn't change anything – we've learnt so much. Help as many people as you can, because what goes around comes around – when you've got a network of friends and peers, everyone can help each other when things get tough. Always have an attitude towards altruism, and enjoy the journey!
Sub Cult opens at 82 Watling St, EC4M 9BX, this Weds 19 June. Open Mon-Fri 7am-6pm; click here for info & more locations.
For updates on what's happening in the City plus exclusive offers and content for One City Friends, sign up for our newsletter here!