Lee Krasner: Living Colour – Barbican Art Gallery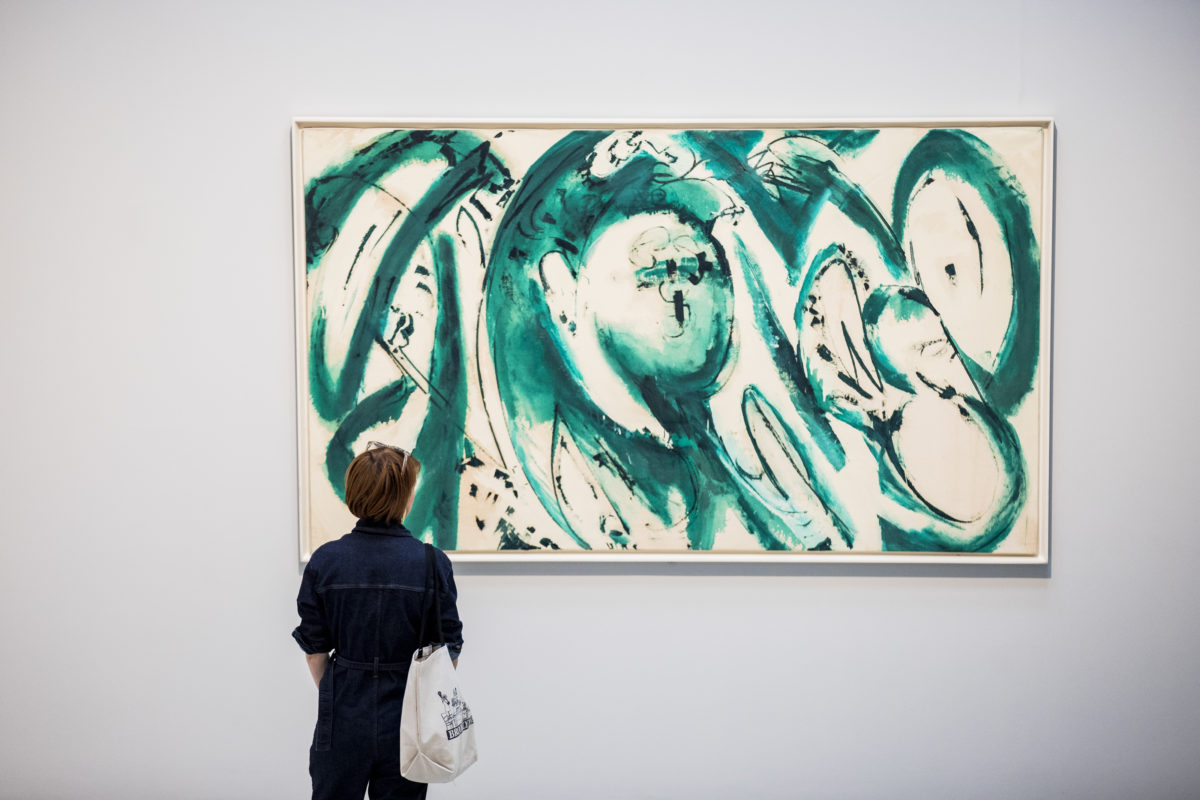 It's almost criminal that this is the retrospective in Europe for over 50 years of Abstract Expressionist Lee Krasner, but it's certainly worth the wait; this summer the Barbican celebrates the American artist who reflected the feeling of possibility and experiment in New York in the mid 20th Century. The large, multi-floor exhibition takes you through the origin of her work, from intimate self-portraits of a painter at work, to cubist life drawings under the tutelage of Hans Hofmann (so good 'you would not know it was done by a woman' said Hofmann of Krasner's work) to geometric abstractions and wildly colourful canvases reflecting her turbulent life.
The scale of the art gallery is perfect for the scale of her impact; walk through her life and watch her style evolve in over 100 works, some of which are being exhibited in the UK for the first time. Alongside this, enjoy rare photography and film from the period, grounding her work in the post-war period; her surreal, abstract paintings contrasting with stark footage from a time when the USA was reeling from its new position as a superpower and women were embracing lives of domesticity. All this and more, at an exhibition that provides 'an exciting opportunity for visitors here to experience the sheer impact of her work' (Jane Alison, Head of Visual Arts, Barbican).
1 Jun – 1 Sep 2019 | Barbican Art Gallery
Admission: Mon-Fri £15; weekends and bank holidays £17; members and under-14s free
Click here for more info plus related talks and events
–
Haffendi Anuar & Nadia Waheed: For the Few and the Many – BEERS London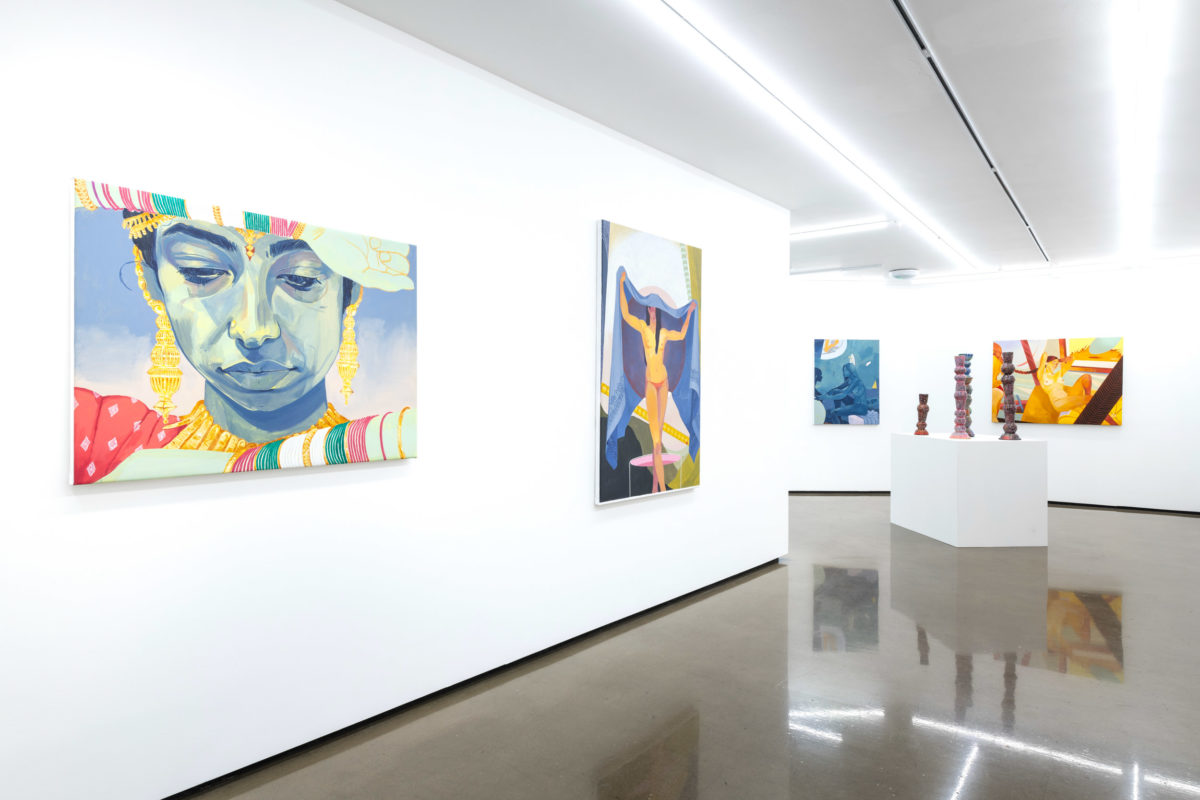 The two artists in this group exhibition offer a vastly different yet complementary analyses of society. Both born in Asia and having lived and worked around the world, each artist has created different visuals on identity and environment that are proudly explored at this colourful exhibition near Old Street. Waheed, a Pakistani-born Saudi-American artist, exhibits a set of intimate paintings of women, some self-portraits, some other – the women are painted in various bright hues ('What really signifies one's identity,' questions Waheed, 'do they have to be painted brown to be brown?') and intertwine and cradle one another. The traditional dress of some of the paintings and the often-nude portrayals explore Waheed's identity – and women's identity – in thought-provoking detail.
Anuar on the other hand, a Malaysian sculptor, looks at societal issues of construction and modernisation in a more abstract way – with sculptures that resemble foundational support columns that hold up the more traditional Southeast Asian buildings. Painted with numerous layers and sanded down, the wear-and-tear aesthetic artificially dates the sculptures so they almost resemble antiques. At the same time, the bright layers of paint shining through create their own suggestions about exposing vulnerability, and how this architectural imagery may tell us more about our changing landscape.
18 May – 29 Jun 2019 | BEERS London
Admission: free (closed Sundays & Mondays)
Click here for more info
–

Architecture of London – Guildhall Art Gallery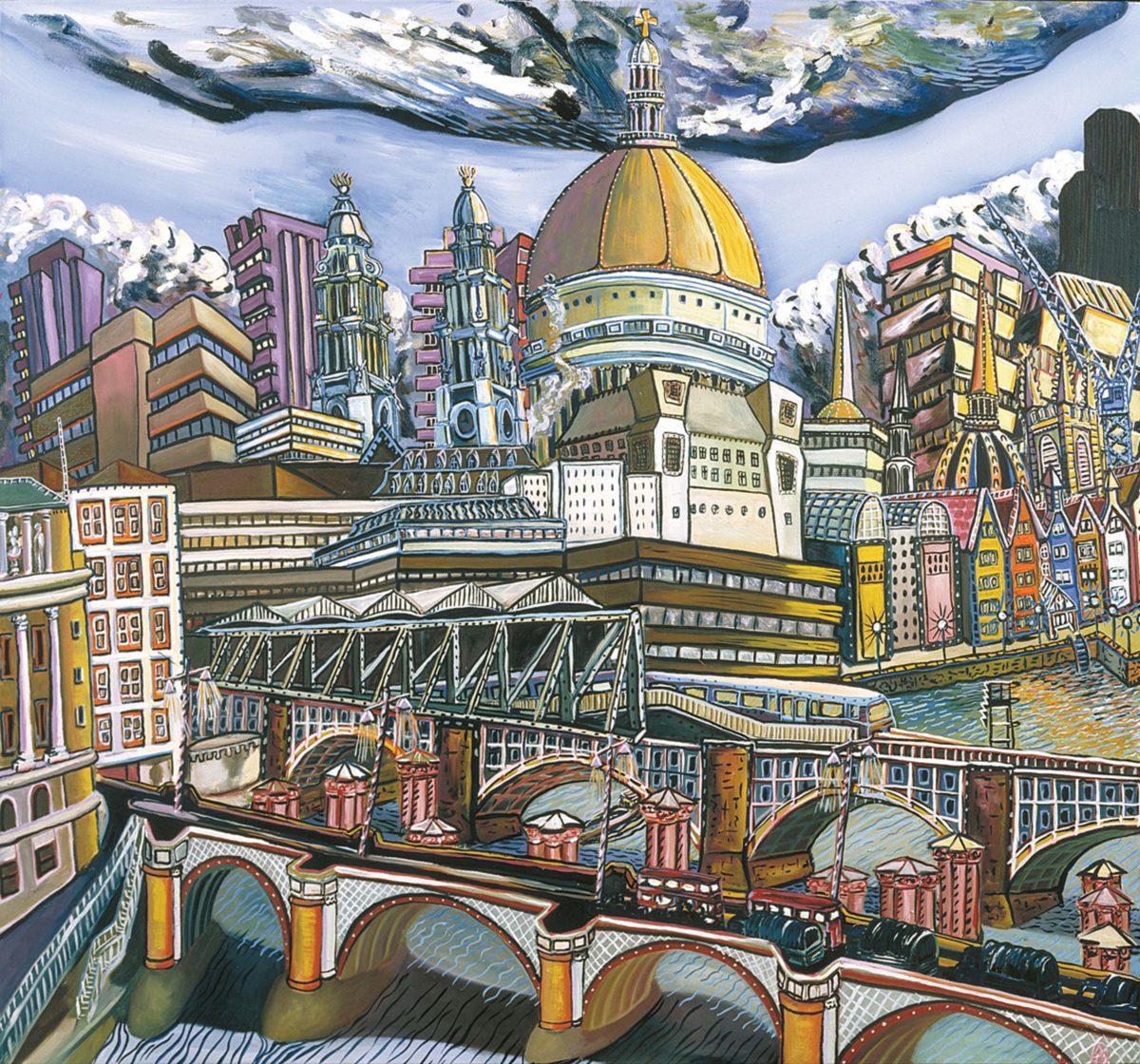 London has long been a fascinating and inspiring place for artists, and here the Guildhall Art Gallery brings together 400 years' worth of urban and suburban depictions of our city. The exhibition features 80 works by 60 artists, giving us a glimpse into how London, its residents and its skyline have changed over the years – with each artist's own unique perspective on the era they lived in.
The City itself has been through astronomical change – from the destruction following the Great Fire of London, to the rebuilding on the old medieval street pattern, the Victorian boom, the introduction of brutalism, to the 'big bang' in the financial sector causing the City's skyline to grow ever larger. Nowhere else has this fascinating contrast of old against new, and 'Architecture of London' shows its enormous artistic influence on the people who dwell in it. A must-see for all who are fascinated by London's built environment.
31 May – 1 Dec 2019 | Guildhall Art Gallery
Admission: £10 / concessions £7
Click here for more info
–

Queer Spaces: London, 1980s – Today – Whitechapel Gallery
LGBTQ+ spaces in London have long provided safe havens to the community and have been places to celebrate all kinds of love and identity, from centres to pubs to theatres to cruising areas. But are they increasingly under threat? In a time when redevelopment seems to be putting the needs of investors over the LGBTQ+ community, Whitechapel Gallery charts the appearances and disappearances of queer spaces over the last 30 years.
Displays from the archives and artists' depictions show safe spaces for self-expression and look at how activists have fought to protect these areas in the past and present. Case studies and eye-opening art pieces reveal the radical inventiveness and creativity of London's LGBTQ+ communities since the 1980s to today.
2 Apr – 25 Aug 2019 | Whitechapel Gallery
Admission: free
Click here for more info
–
London Festival of Architecture City Showcase – The City Centre
How creative can an architect be with something you take a seat on? That's the question the London Festival of Architecture (LFA) puts out to both new and well-established architects and designers each year. Benches, normally considered the unassuming and not-that-interesting amenity that you'll find in any public area, take the spotlight this June as part of the LFA 'A City of London Bench' competition. Alongside that, the 'City Parklets' competition inspired designers to reimagine under-used car parking spaces and turn them into miniature urban parks that transform kerbside areas into something completely new.
You might have already seen 'Whippet Good', the large sleeping dog curled up on the ground by St Mary-le-Bow Church; 'Love Without Borders', a heart-shaped hole nearby that seems best shaped for a summer snooze; the 'Pavement Art Gallery', the paving stones elevated to canvas-level paying tribute to London's old pavement artists (inspiring you to get stuck in yourself); or many of the other colourful new sights around the City. But at The City Centre you can find out all about their designers, the plans, and the inspiration behind each bench and parklet – all as part of the LFA City Showcase exhibition, up until 27 July. A fascinating look at just how creative London's architectural experts can be.
20 May – 27 Jul 2019 | The City Centre
Admission: free (closed Sundays)
Click here for more info
–
For updates on what's happening in the City plus exclusive offers and content for One City Friends, sign up for our newsletter here!